Rob McGaffin's 1965 Oldsmobile Cutlass | 2013 OUSCI Preview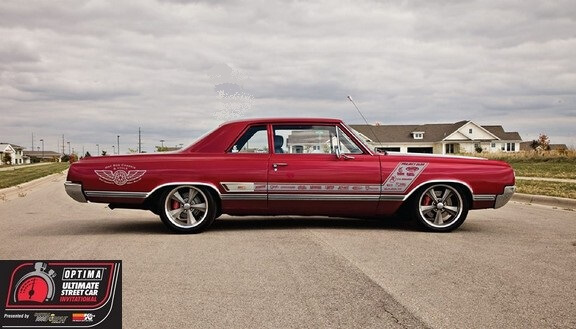 Ultimate Streetcar
Sponsor

OPTIMA Batteries

Location

Pahrump, NV
Even though we've already featured Rob McGaffin's beautiful 1965 Oldsmobile Cutlass twice in the Power Source blog, a lot has happened since we last saw him up close at the 2013 OPTIMA Faceoff. Leading up to the 2013 OPTIMA Ultimate Street Car Invitational, presented by Royal Purple and K&N Filters, we thought it would be a good opportunity for us to find out what Rob has been up to since receiving his invite to SEMA and the OUSCI.

First, for those unfamiliar with the specifics on Robert's Olds, we'd like to first offer a recap of the basics. McGaffin's engine is a massive 461 Olds, built by SAM Racing. The engine is topped with Edelbrock Heads, an Edelbrock Torker Intake, and a Holley 750 cfm carb. An MSD 6AL ignition distributor light the fires, while Hooker headers send the spent fumes downrange through Hooker Aerochamber mufflers and a custom-fabricated exhaust routing by the Roadster Shop.
Up front a custom Afco radiator with twin 11-inch Spal fans keep everything running cool. The transmission for Robert's ride is a Tremec TKO 600 mated to a Hurst shifter, which sends power through a Strange S60 rearend with 3:73 gears and 35 spline axles. Our good friends at Detroit Speed supplied many of the A-body suspension upgrades, including a splined front sway bar and a full DSE A-body suspension in the rear, including the sway bar.
Coilover shocks come from Viking Performance, but Robert tells us Viking Performance is showcasing a new shock this year at SEMA, called the Berserker ASM ( Active Shock Management) system. McGaffin installed the system and ran some recent tests out at Autobahn Country Club, and thinks he has everything dialed-in. While in the process of changing over the shocks, Robert also upgraded his Baer T4 brakes with more aggressive pads and new track rotors.
The Oldsmobile rides on a set of 18-inch Rocket Racing Booster wheels, which were wrapped in BFGoodrich Sport Comp 2 rubber, but Robert indicates he has now switched the Sport Comp 2s out for the stickier, but still event-legal BFG Rivals.
There have been some bumps in the road along the way and Robert tells us he has finally tracked down and resolved a brake leak issue. However, it seemed like just when he had that problem solved, the fuel pump sprung a leak of it's own. An electric pump and regulator from Holley has now been added to the mix and McGaffin is quick to give credit to Kevin at Hot Rod Chassis Cycle, who has been invaluable in helping prep Robert's ride for the OUSCI.
Some of the other improvements include a fuel and differential vent from II Much Fabrication and a brand-new gauge cluster packed with Autometer's Ultra-Lite II gauges, which is sure to catch the eye of the discerning judges in the Lingenfelter Performance Design Challenge. Chad Hill from Django Studios also came up with the new graphic design package, which now adorns the side panels of Robert's Cutlass.
Items still on the "to-do" list include plumbing the oil cooler and putting the Olds on a diet with some bumpers from VFN, which are scheduled to be installed in the near future. We're sure Robert and the crew at Hot Rod Chassis Cycle will have no trouble buttoning up his car in time for SEMA and the OUSCI. The question is whether you will see how he does? If you missed watching it happen live, add the OPTIMA Network for free on Roku and watch all the past TV coverage.