Robert Jackson's 1967 Volvo Amazon- 2014 OUSCI Qualifier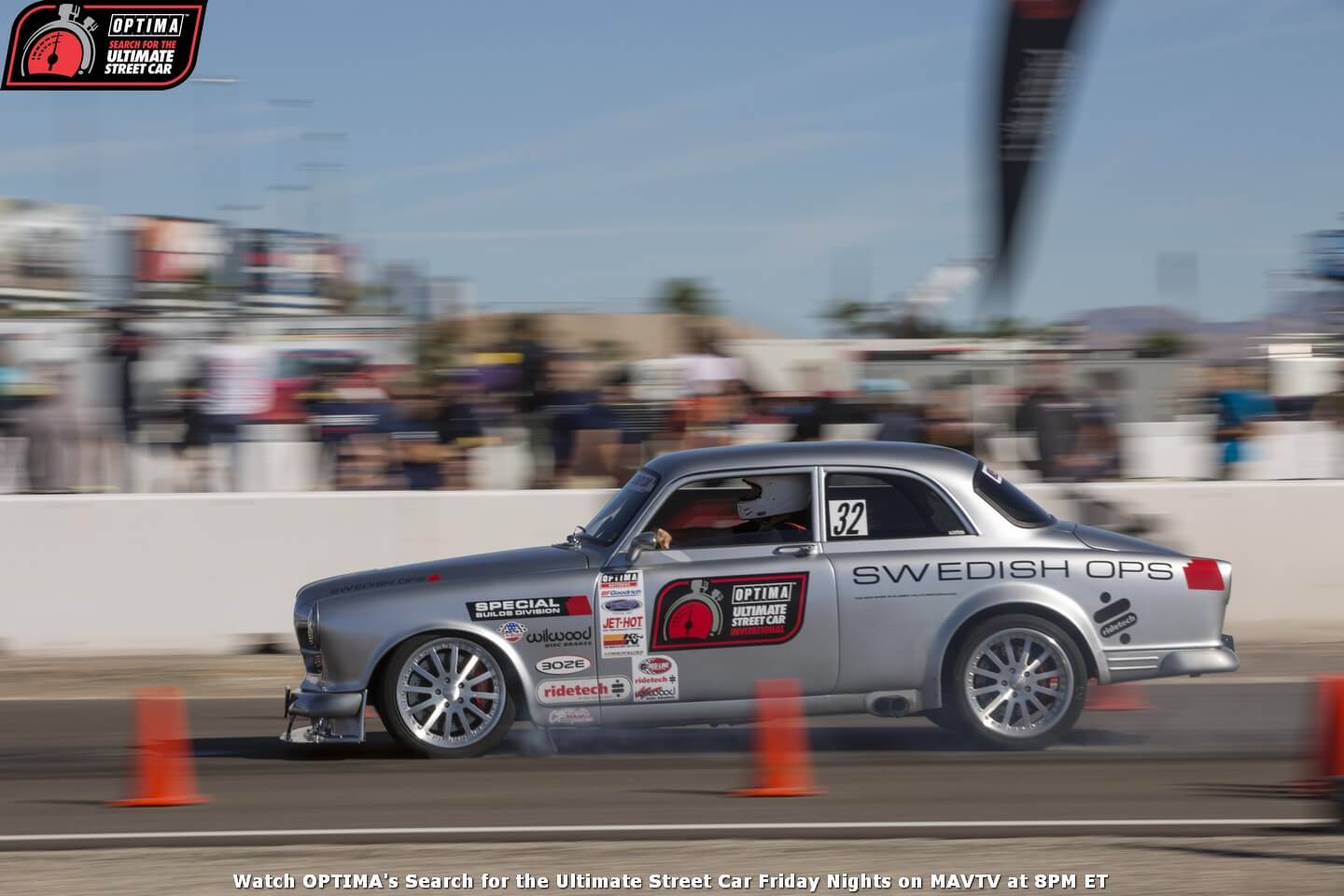 Ultimate Streetcar
Sponsor

OPTIMA Batteries

Location

Las Vegas, NV
The great thing about hot rodding is that creative folks can take just about any platform of their choosing and take it in a direction few may have ever contemplated. While the Volvo marquee may not necessarily be the first thing people envision when someone says, "hot rod" Jay Reynolds' 1978 Volvo Bertone Custom Coupe has already proven Volvos can have a place in the conversation.
Robert Jackson has similarly taken the road less traveled with his 1967 Volvo Amazon and has now qualified for the 2014 OPTIMA Ultimate Street Car Invitational (OUSCI). The car we see now started out as an $800 driver, before going through three full years of development, with Robert designing and manufacturing nearly every part of the car. We don't anticipate the Amazon market dwarfing the F-body market anytime soon, so other Volvo enthusiasts who do want to build cars in similar fashion will probably turn to Jackson, who custom-fabricated nearly ever facet of this car, including the full front suspension which included the bolt-in cross member, control arms and LS conversion mounts.
While LS swaps are fairly straightforward with other makes and models, that was anything but the case with the Amazon. Robert had to manufacture extreme block-hugger headers, a direct-fit radiator and a firewall conversion kit that worked with it all. The intent was to have components that worked with the car, rather than make the car work around the components. Jackson also had to develop a full rear end kit and coilover conversion kit that could be installed in a bolt-in capacity to avoid altering the body more than necessary and allow other cars to be built with similar ease.
Although Jackson accomplished all of this work without any sponsorship support, he has had the privilege of working with several great manufacturers, including Sanderson Headers, Speedway Engineering, who built his mod-light nine-inch rearend assemblies, DeWit Radiators, who manufactured his high-performance LS radiator kit, as well as Wilwood Brakes and QA1 Shocks..
In terms of actually putting those components into the car and getting everything running, Jackson basically did it all at his own shop, with the exception of the final paint work. That includes all the metal-working and design with nothing more than what he describes as basic garage tools. "My build threads have shown regular guys, that a car can be built with the very basic of tools like a 4.5-inch angle grinder, hammers, a welder, torch and other basic hand tools, because I don't have any hardcore, custom fabrication equipment in my shop," says Jackson. "Every design piece of this car was first built from scratch and then reverse-engineered and CAD drawn for refinement and duplication." Jackson now has all the components for the suspension and firewall conversion kits in automated cut programs and jigging for mass production through his business, Swedish Ops.
While a Pro-Touring Volvo Amazon may be a rare sighting now, Robert tells us he has a dozen customers building LS conversion cars at home as you read this and we've even been shown photos of a Pro-Touring Volvo P1800 Jackson currently has under construction. We don't expect Volvos to take over the Pro-Touring mainstream from Mustangs and Camaros, but we certainly look forward to more variety in the coming years. We'll be checking back in with Jackson for another update as we near closer to the OUSCI, but If you'd like to get in on the action with your street car or at least do some recon for your next build, be sure to come to the next OUSCI qualifier.