Ron Schwarz's 1966 Ford Mustang | 2012 OUSCI Preview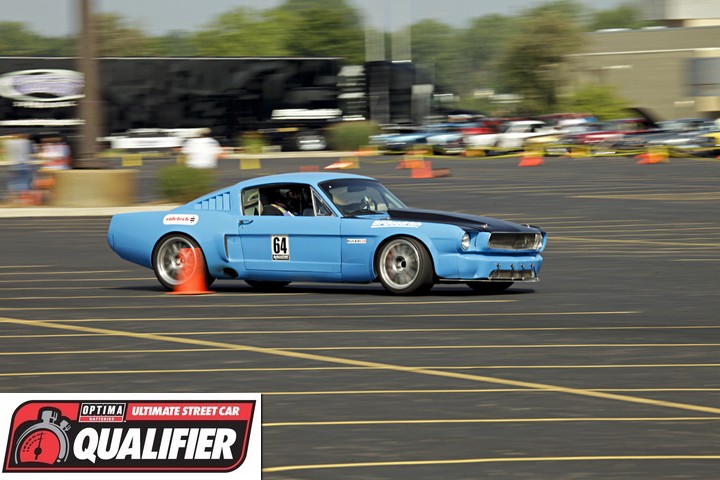 Ultimate Streetcar
Sponsor

OPTIMA Batteries

Location

Pahrump, NV
Wouldn't it be great if you could build a car with a budget of $5,000, that could compete in the OPTIMA Ultimate Street Car Invitational (OUSCI, presented by Royal Purple and K&N? That's what Ron Schwarz thought, when he started out with a rusty shell of a '66 Mustang Fastback almost five years ago. Ron did virtually all of the work on this car himself and while he did encounter
a few setbacks
along the way, Schwarz now finds himself just weeks away from a date at the 2012 SEMA Show and the OUSCI.
Ron's original budget was probably a bit unrealistic, even though When StreetLegalTV.com
caught up with him
a few years ago, he only had about $13,500 into the whole project. He had the car put together and running for less than ten grand, which included $400 for the body and $75 for a Dana 60 rear end. However he did end up splurging on CCW wheels and Baer brakes, which added about $4,500 to the total.
Purists shudder to think that Ron had the nerve to stick a GM powerplant under the hood, but the LS7 suits Ron and us just fine and is now good for about 573 horsepower, which more than adequately gets his 3,500 pound car moving. In fact, this is at least the second 10-second car we've previewed for the OUSCI, that would never suggest such fast times from a first glance. Take a look at the video if you'd like to see this car hit 130 mph in the quarter mile.
Since this is Ron's first OUSCI experience, he figures he'll finish in the middle of the pack in just about every event. However, we don't think he is giving himself enough credit. Ron has been participating in events of this type with his Mustang for several years, so we don't anticipate he'll be surprised by anything he sees from the Detroit Speed Engineering/JRI Shocks Road Rally to the BFGoodrich Hot Lap Challenge. Ron knows his way around the autocross and given his power to weight ratio, should be very competitive in the RideTech Autocross. The acceleration he displayed at the dragstrip should serve him well in the Wilwood Disc Brakes Speed Stop Challenge.
Maybe one of Ron's biggest advantages is that his car has been completed for quite some time, so he's been able to get it sorted out and if something does happen along the way, there's a good chance he'll know how to fix it.
Perhaps the big question for Ron will come in the Lingenfelter Performance Design & Engineering Challenge. Ron really built this car to drive and compete in events, so detailing it has never been high on his priority list. We expect it will be in it's Sunday's best for SEMA, but will the judges appreciate and understand all the custom work that went into Ron's Mustang? Will they know that he custom-fabricated his frame in his own garage? If you missed seeing the 2012 OUSCI in person, add the OPTIMA Network on Roku for free and watch all the past TV coverage.