Ronnie Soliman's 2006 Mitsubishi Evo | 2014 OUSCI Preview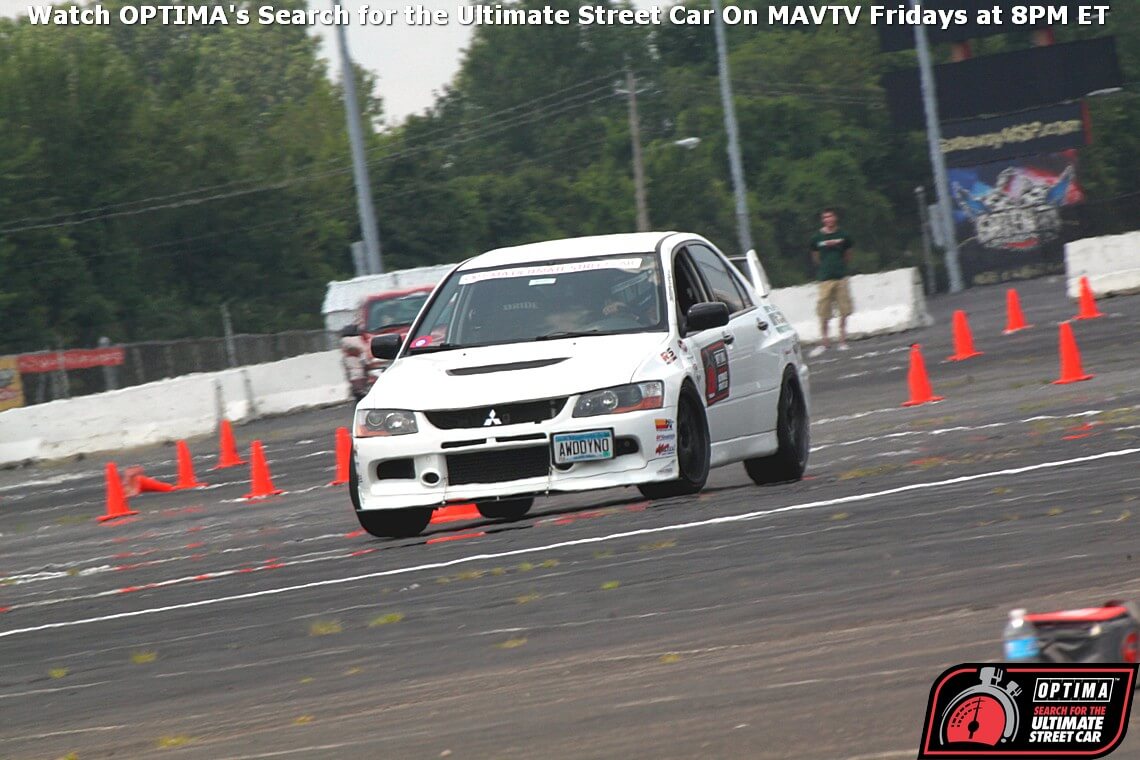 Ultimate Streetcar
Sponsor

OPTIMA Batteries

Location

Las Vegas, NV
This was supposed to be the year Ronnie Soliman remodeled his kitchen for his wife, but it hasn't quite worked out as he expected. Soliman and his crew from RS Motors jumped head-first into OPTIMA's Search for the Ultimate Street Car and by the time the invitees were announced, a full compliment of cars from the RS Motors stables found themselves making plans for the 2014 SEMA Show and the OPTIMA Ultimate Street Car Invitational (OUSCI), presented by K&N Filters. That list includes Soliman's 2006 Mitsubishi Evo, as well as AJ Santiago's 2011 Nissan GT-R, Dr. Brandon Ranvek's 2006 Mitsubishi Evo, Andy Smedegard's 2001 Honda S2000, and Shawn Carroll's 2008 Mitsubishi Evo.
It is a testament to the quality of work produced by RS Motors, that so many of his customers not only qualified for the OUSCI, but have to be considered some of the cars to beat in this year's competition. That's not to say there haven't been hiccups along the way for this bunch, but as often as they track their cars, that is bound to happen, although we can't recall a single qualifying event where any of these cars failed to finish. While we know several groups of competitors from around the country have been setting up track rentals and making mass appearances at local autocrosses in preparation for the OUSCI, the RS Motors group has been some of the most-active in that regard, running several track day events above and beyond all the qualifying events they fit into their schedule.
The end result is a group of cars that are well sorted out every time they hit the track. Fortunately, these test sessions also expose areas of their cars that need attention and as hard as they've been pushing them all year, the winds of change were blowing in their direction. "I was not planning on making any changes to the car since it's been performing well all year," says Soliman. "I had the suspension sorted out, the brakes were finally biting and the engine was always ready to go."
That all changed in a final track event prior to heading West. "In the second session, I ended up chewing up my second gear and eventually, it just didn't want to go in anymore at high rpms," says Ronnie. When he pulled into the pits, Soliman got word that Brandon Ranvek had shattered fourth gear in his Evo in the same session. Soliman's car still ran, so he decided he would grab more seat time and deal with his tranny issue afterwards. Unfortunately, transmission misery apparently loves the company of engine trouble- Ronnie's Evo had spun a bearing and developed a rod knock.
Folks often wonder why we have a few last-minute cancellations with OUSCI invitees and it is stories like these that are often the root cause. However, Soliman was determined to make the trip, so with just two weeks before the cars were set to be shipped to Las Vegas, he went to work on a complete rebuild on his engine. Business at RS Motors is brisk anyway, so that meant coming in early, staying late and spending every spare minute rebuilding his engine. Somehow, Ronnie managed to squeeze 40 hours of wrench time into his car and got it back up and running again. "I've been known to keep spares around just for these kinds of emergencies and I think I used up everything I had and more," says Soliman.
Ronnie's Evo now has a new, built engine that produces about 510 horsepower at the crank and 450 to the wheels. He also has a refreshed transmission and a new Exedy twin-plate clutch, but he's not quite done yet. A Wilwood big brake kit for the front and rear will be installed before the car leaves, as well as a Forced Performance ball bearing turbo. "It will be a whole new car for me to learn how to drive," says Soliman.
Not only will Ronnie's Mitsubishi feel like a new car, but he'll be in new surroundings at the Las Vegas Motor Speedway. "I searched for some videos online, but I really couldn't find a good match for the track layout provided," says Soliman. "Just like every other event I've attended with the USCA, I will use the parade laps to get familiar, the first session to feel the track and hopefully get faster and faster from there."
Even though this is Soliman's rookie trip to the OUSCI, he is very familiar with many of the top competitors in this year's field and believes he knows what to expect. "I think it will come down to the driver and not the car so much," says Ronnie. "These competitors are the best from each event and it will be a test of who makes the fewest mistakes."
Even though Corvettes and Camaros have been traditionally dominant in the OUSCI, Soliman sees the event as being wide-open in 2014. "We have some big talent coming into the event this year. The guys with their Camaros, Vettes, GTRs and Porsches will not have it that easy," predicts Ronnie. "Some of these guys have been practicing all year and any of them can rise to the top, but no one will have a walk in a park at this event. Just when you think you're watching out for the fast guys, someone from behind will give you a surprise."
Ronnie is realistic about his own chances of winning the event, but he is approaching it with a great attitude. "If I finish in the top 20, I will consider that a win, but even if I don't win the event, I feel that I have already won," says Soliman. "We have overwhelming support from friends who will all be there in Las Vegas with us. I can't even count anymore how many are going to be there and they are all asking for RS Motors shirts. I just know it will feel like home."
Ronnie is also quick to acknowledge the support of sponsors who have made this trip possible. "I need to thank Race Ramps for all of their help in transporting our cars to Las Vegas and back and Andy Smedegard for helping make that happen," says Soliman. "I'd also like to thank Wilwood for setting me up with their big brake kit for this event and Forced Performance for making sure my new ball bearing turbo was shipped in time for me to make this event. "I'd also like to thank OPTIMA Batteries, the Ultimate Street Car Association (USCA) crew and the rest of the event sponsors, Detroit Speed Engineering, BFGoodrich, RideTech, K&N Filters, Red Line Oil, Showtime Motorsports, Lingenfelter Performance Engineering, Jet-Hot Coatings Snap-On tools for putting on these events. I hope to compete in more and drag all my friends with me, as I did this year," says Soliman.
We hope Ronnie doesn't stop there. If you'd like to see how he did, add the OPTIMA Network on Roku and watch all the past TV coverage for free!