Roostertail Racing's New Boat Continues to Impress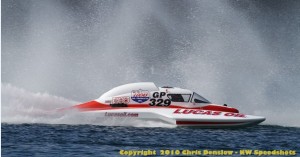 Marine
Sponsor

OPTIMA Batteries

Location

San Diego, CA
Whether a racer competes on land or water, making a move to new equipment can be daunting. There is obviously lots of previous knowledge that can be transferred over, but sometimes it takes some trial and error to get a new combination working. Trial and error for the OPTIMA-sponsored Roostertail Racing's new hydroplane has been minimal.
Last weekend was only the second appearance for the hydroplane, but it is already showing a lot of speed and challenging for the lead every time out, picking up a heat race win last Saturday. The next day, they came in second in the first race of the day and although they chased various mechanical gremlins all weekend,they finished up third overall. This success was preceded by another heat win and second place finish in its maiden race in San Diego. We're excited to be a sponsor of Roostertail Racing and look forward to their success in the 2011 season!

You can run the same OPTIMA BLUETOP batteries in your boat, that hydroplane racers trust in their boat. Order factory-direct today!