Ryan Mathews' 2012 Chevrolet Camaro | a 2014 OUSCI Preview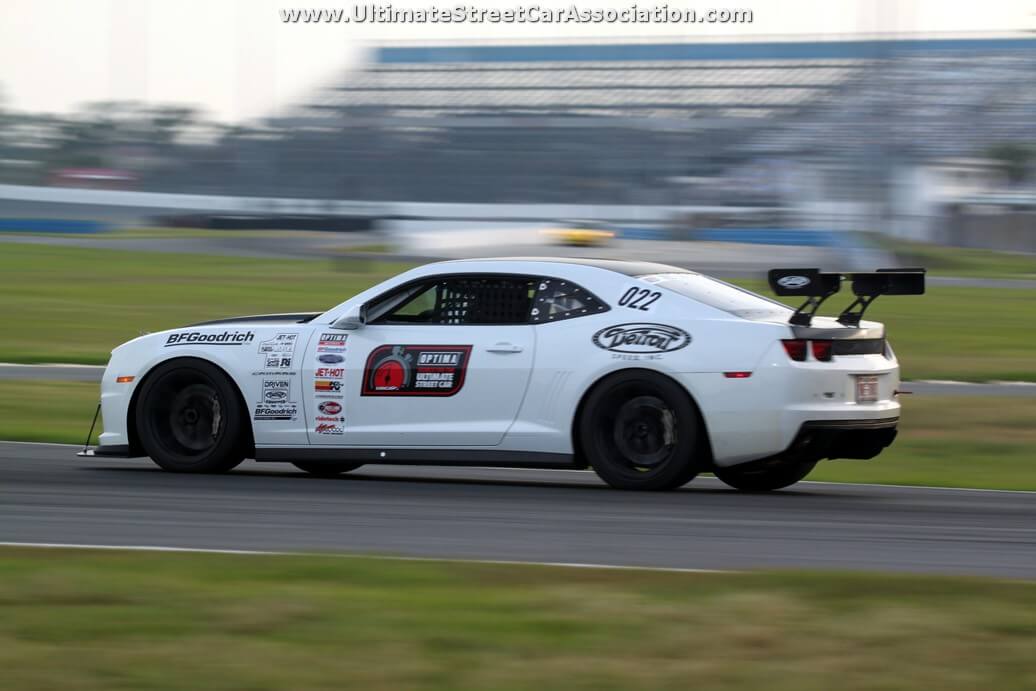 Ultimate Streetcar
Sponsor

OPTIMA Batteries

Location

Las Vegas, NV
While we've seen competitors qualify for the 2014 OPTIMA Ultimate Street Car Invitational (OUSCI), presented by K&N Filters, based on a top-20 finish in Ultimate Street Car series points, those who finished in the top-10 are an elite group and Ryan Mathews is one of the names to watch for in Las Vegas. Not only does a top-10 finish take incredible driver talent, it takes a fast and consistent car, which Mathews had this year in his Detroit Speed-sponsored 2012 Chevrolet Camaro.
A full season's worth of hard driving and seven demanding events (not to mention everything it has seen in previous years) started catching up with the Camaro's engine in Pittsburgh, so a re-build has since been done. Heading into Vegas, Mathews tells us the Chevy will weigh in at 3,780 pounds with the new engine producing about 545 horsepower to the wheels.
Ryan is not familiar with the road course used for the BFGoodrich Hot Lap Challenge, but he is a quick study and has gotten up to speed on a lot of tracks over the years, so he's hoping his learning curve will be an advantage. It's always interesting to hear what the top competitors say about who are the ones to watch in Las Vegas and Ryan didn't disappoint. "A really good car with a really good driver will most likely win…..as usual lol!" says Mathews. "A good all-wheel drive car should be the best way to go, but there are only a few with really good drivers and fully sorted-out cars."
Mathews has run in enough OUSCI competitions and Ultimate Street Car events to know his own strengths and weaknesses, which he openly explains. "My odds are good for some events, but I know I'm weak in the Lingenfelter Performance Design Engineering area and usually not too good in the Wilwood Speed Stop Challenge. I'm hoping to make top-10 or maybe top-five overall but it's going to be really tough!!!"
Ryan would like to thank his sponsors (which include his employer and the car's owner, Detroit Speed), MAST Motorsports, JRi shocks, Baer brakes, Driveshaft Shop axles, Dynotech driveshafts, Hammerhead rearends, C&R radiators, Autometer gauges, Vintage Air and Squash Fuel Systems for supporting this car. If you missed seeing it run in person, you can always hit the rewind button and add the OPTIMA Network on Roku, which holds all the past OUSCI TV coverage in one convenient location.