Shawn Carroll's 2008 Mitsubishi Evo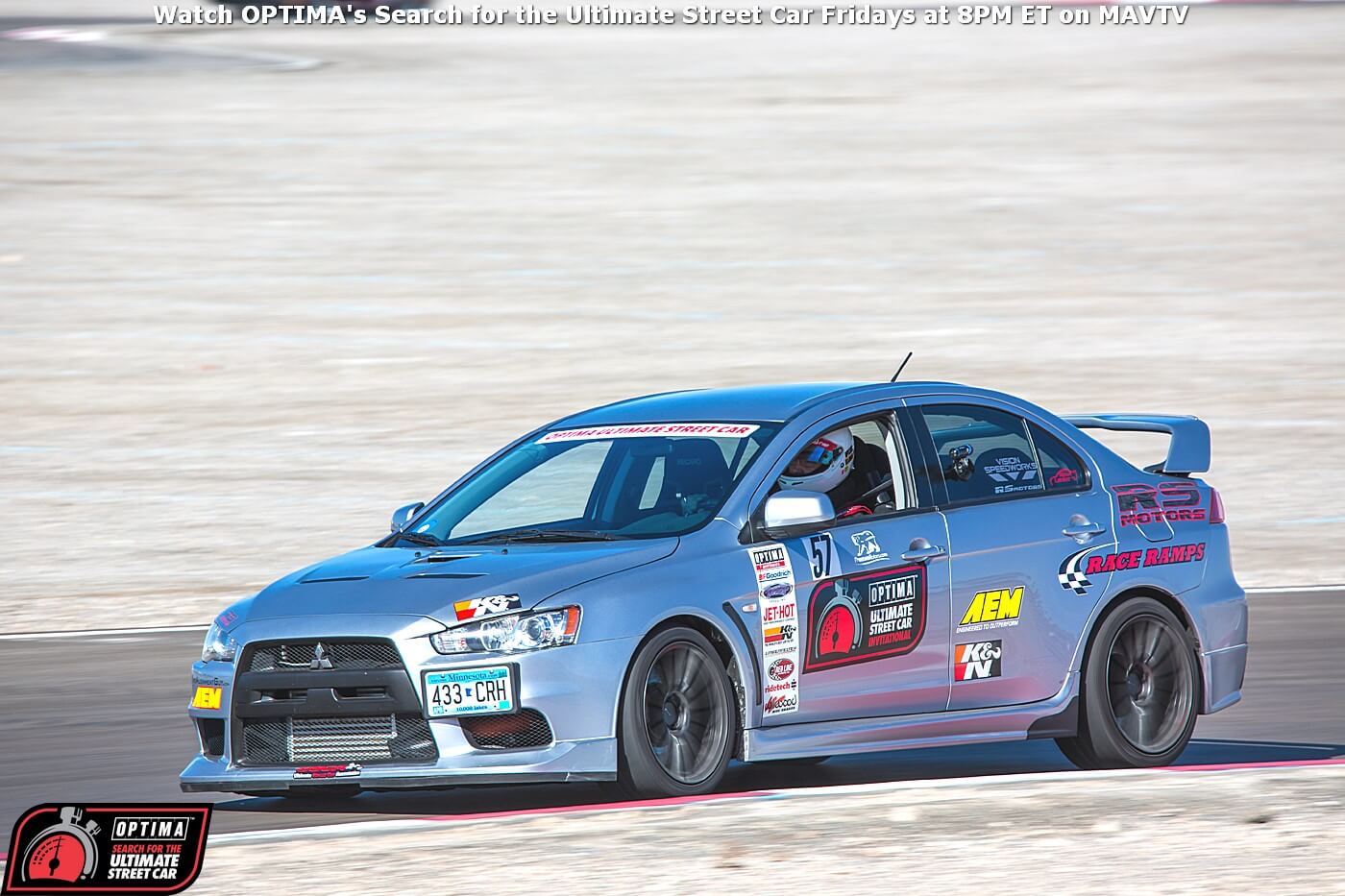 Ultimate Streetcar
Sponsor

OPTIMA Batteries

Location

Las Vegas, NV
The 2014 OPTIMA Ultimate Street Car Invitational (OUSCI), presented by K&N Filters, was probably the most-diverse field to date. Within that mix of cars were quite a few Mitsubishi Evos, including Shawn Carroll's 2008 Evo X. While more attention may have been paid to his teammates in the RS Motors stables, Carroll emerged as one of the top competitors in the field, which was a result far better than even he expected.
Shawn had competed previously in Search for the Ultimate Street Car events at Gateway Motorsports Park and Michigan International Speedway, so he knew anyone who wanted to be in contention for the overall victory needed to capture all 25 available points in the Detroit Speed Road Rally, which he did. He also probably anticipated he wouldn't get a big boost from the Lingenfelter Performance Design & Engineering Challenge, where he finished tied for 73rd, but we suspect he thought he could make up some ground on the track.
Carroll's 2.0-liter mill only produces 350 horsepower, but his all-wheel drive platform helps him optimize power delivery to the track and Shawn's extensive driving background would help him maximize his car's potential. On the BFGoodrich Hot Lap Challenge, Shawn's Evo was the fastest of seven competitors to run a 1:55.x lap time, which placed him 40th in that segment, although that performance didn't come without it's own challenges. "I am a type 1 diabetic and I was having control issues with my diabetes during the hot lap challenge, which prevented me from being able to run all four 15-minute sessions," says Carroll. "I was able to do a solid two sessions, but wasn't able to get into a rhythm, as I was still learning the track on the last session."
Things went much better for Shawn on the Wilwood Disc Brakes Speed Stop Challenge, where he notched a 10th-place finish, less than a second off the pace of the top spot, grabbed by his RS Motors teammate, Brandon Ranvek's Evo. "The top speed and lane change for the speed stop were crazy and challenging," says Carroll. "I did not expect so many dnf's from that event element."
Shawn's best performance of the weekend came on the RideTech Street Challenge Autocross, where his fifth place finish meant RS Motors Evos grabbed three of the top-five positions. "I did way better then I thought I would," says Carroll. "I ended up in the top-ten for the autocross and speed stop portions with a very stock car and I was shooting for a top-20 finish overall and ended up 12th." Shawn believes his health issues in the hot lap challenge kept him out of the top-ten overall and he's probably right, as only one other competitor in the top-30 overall finished lower in that segment.
Overall, Carroll was very impressed with the 2014 OUSCI field. "There were some really bad-ass rides with lots of horsepower and I was really impressed by the old Vettes with the ultra-wide rubber," says Shawn. "Some cars just looked like they belonged on a track more than the street, with all the diffuser and wing setups being used."
While some may consider Carroll's opinion on the most-impressive competitor to be biased, he was far from alone in his choice of Brandon Ranvek's 2006 Mitsubishi Evo. "Not only was his car fast, but he is a one helluva driver and good person to be around," says Shawn. Carroll's advice to future competitors is simple- "Just come out and play! The level of competition is fierce, but a good driver with a balanced car can do well." Shawn's performance certainly backs that up.
We're now less than two months away from the first Search for the Ultimate Street Car event of the 2015 season at Thunderhill Raceway in Willows, California. Registration opens on January 19th, so www.DriveOPTIMA.com now an start marking off dates on your calendar and we'll look for you at the track!