Sponsors Announced for the 2011 OPTIMA Batteries Ultimate Street Car Invitational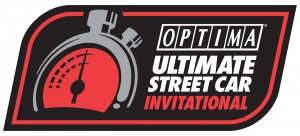 Ultimate Streetcar
Sponsor

Location
Select members of the automotive aftermarket industry's most sought after performance brands have signed on as sponsors of the 2011 OPTIMA Ultimate Street Car Invitational. The invitation-only event is in its fourth year and will take place Saturday, November 5th, on the heels of the automotive industry's leading specialty trade event, the SEMA Show.
Held at Spring Mountain Motor Resort and Country Club in Pahrump, Nevada, this internationally-publicized Invitational will challenge up to 50 of the finest street machines in the world, showcasing the quality, performance and talent of the country's top builders, car owners and performance parts manufacturers. New for 2011, Wilwood Disc Brakes will share the title of presenting sponsor with KN Filters. This will be Wilwood's first year as a presenting sponsor, as well as its first year participating in the Invitational. KN Filters has been a presenting sponsor of the exclusive event since its inception in 2008.
The featured and additional race event sponsors of the 2011 Invitational include:·
"We are pleased to have such a diverse and well-respected group of sponsors for this year's 2011 OPTIMA Ultimate Street Car Invitational," said Cam Douglass, Invitational Founder and Director of Product Development and Marketing for OPTIMA Batteries. "Each year OPTIMA works to unite the industry around an exciting, world-class event where we can all show what real street machines and high-performance products are capable of doing. This year's sponsors will help us achieve just that."
The OPTIMA Ultimate Street Car Invitational will have a significant presence at the SEMA Show including an outdoor feature vehicle and car corral, large indoor booth space, judging to determine the final vehicle selections, a press conference and behind-the-scenes video filming. The SEMA Show, Invitational road rally and race challenges will once again be shot for a high-definition, one-hour TV special that will premiere on national cable in early 2012, with repeat airings throughout the year. Additional sponsorship opportunities are still available for the 2011 OPTIMA Ultimate Street Car Invitational. To find out more, please visit www.optimainvitational.com.