Steve Kepler's 2013 Nissan GTR | 2013 OUSCI Preview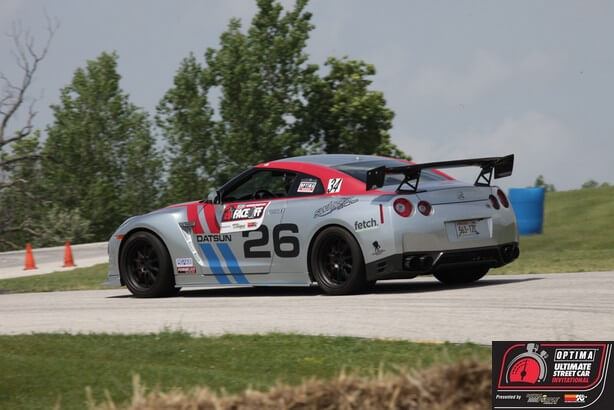 Ultimate Streetcar
Sponsor

OPTIMA Batteries

Location

Las Vegas, NV
Those who have read the first several previews for the 2013 OPTIMA Ultimate Street Car Invitational (OUSCI), presented by Royal Purple and K&N Filters, know how much of an emphasis we have been placing not only on power, but tire size and driver skill? Why are those elements important? Because they have proven to be significant factors in past OUSCI championship efforts.
All the power in the world won't result in victory, if the car isn't capable of getting it transferred to the track. Likewise, the most-capable car in the world is useless in the hands of an unskilled driver. None of those are concerns with this 2013 Nissan GTR or it's driver, Steve Kepler. Kepler last made an appearance in the OUSCI with his Corvette back in 2010, but his 2013 ride is a radical departure.
Just in stock form, the GT-R is a very capable vehicle, even in a field of heavily-modified cars, like the OUSCI. 545 horsepower and 463 lb.-ft. of torque are not the numbers after spending tens of thousand of dollars on upgrades, that's how the car rolls out of the factory (with traction control, ABS and VDC stability control). The OUSCI isn't really about cars that are great from the factory, it's about what the automotive aftermarket does with those cars after they roll off the line.
Steve didn't give us exact numbers on what his car is doing now, but it's not hard to put the pieces of this puzzle together. This Nissan has spent some significant time with the tuners at Switzer Performance, who are well-known for producing street-going GTRs that can run in the single-digits in the quarter mile. The good news for OUSCI competitors is that Kepler didn't get the R900 or E900 package that is capable of running 9s. The bad news is that he did get the next level down, which as the name P800 suggests, bumps up the output of the Nissan to 800 horsepower. Now it's a party!
This performance upgrades from Switzer features Switzer ballbearing turbocharger upgrades, high-pressure wastegate actuators, Switzer monster intercoolers and high-flow everything- test pipes, intake assembly, fuel-injectors, etc... A Switzer cooling package was also added to ensure proper temperature management in high-performance driving scenarios.
Going fast is one thing, but what about stopping? The GTR's factory anti-lock brake system can cover up for a lot of driver sins, but Kepler didn't take any chances and made upgrades there as well. What about wheels and tires? This is where it gets really intimidating. Even Edmunds managed to run low-11s in a stock Nissan GT-R at more than 123 mph. That was on 255-series tires up front and 285s in the rear.
Nissan aficionados will immediately recognize some body work has been performed on Kepler's car, particularly in the area around the Forgeline wheels. These changes have allowed Kepler to squeeze in some absolutely massive Michelin rubber underneath. How about 335-series tires in the rear and a matching set up front.
There is no question this Nissan is built and capable of winning it all, but does it have a driver capable of getting the most out of it? We'll let you be the judge, but we will give you some background on Kepler. He comes from a racing family (his car number is the same as his dad's), which usually means he's been doing this type of thing for a while...and he has. He gets to the track quite often and with two cars at his disposal, he gets a lot of track time when he is there. He has competed in the One Lap of America, which is not an event that just anyone off the street can enter. You need to have some level of prior driving experience that makes Brock Yates feel comfortable enough to turn you loose on some of the best racetracks in the world.
Not only does Steve have a lot of track experience, but he has run the car in several events this year, including the Faceoff at Road America. With those numbers on paper, how did he stack up against the competition? He ran the third-fastest lap on the BFGoodrich Hot Lap Challenge, bested only by 2011 OUSCI Champion and road-racing ace, Danny Popp and Todd Rumpke, who drove the Corvette that Danny took to victory circle at the OUSCI.
On the RideTech Autocross, Kepler only managed a 20th-place finish, although that was still within about two seconds of the best time. Multi-time SCCA national champion, Mary Pozzi, did take Steve's Nissan for a spin in the autocross and immediately laid down the fastest time of the day, so the potential is there for a much stronger finish. Likewise, Kepler only made two passes on the Wilwood Speed/Stop Challenge, posting a time that only placed him 45th overall.
The fact that he only posted two runs suggests something might've been amiss in the car and Kepler wisely backed off, rather than pusing it and risking more complex issues. Whatever the case may be, Kepler has had several months to get the car dialed-in and bomb-proofed for track competition. Will he be able to maximize the potential of his GTR? Will the GTR be able to make it through a hard day of hard driving? We'll find out in Pahrump and we'd like you to be there to witness all the action. If you couldn't make it, add the OPTIMA Network on Roku for free and watch all the past TV coverage on-demand.