Terry Neuville is the Final Qualifier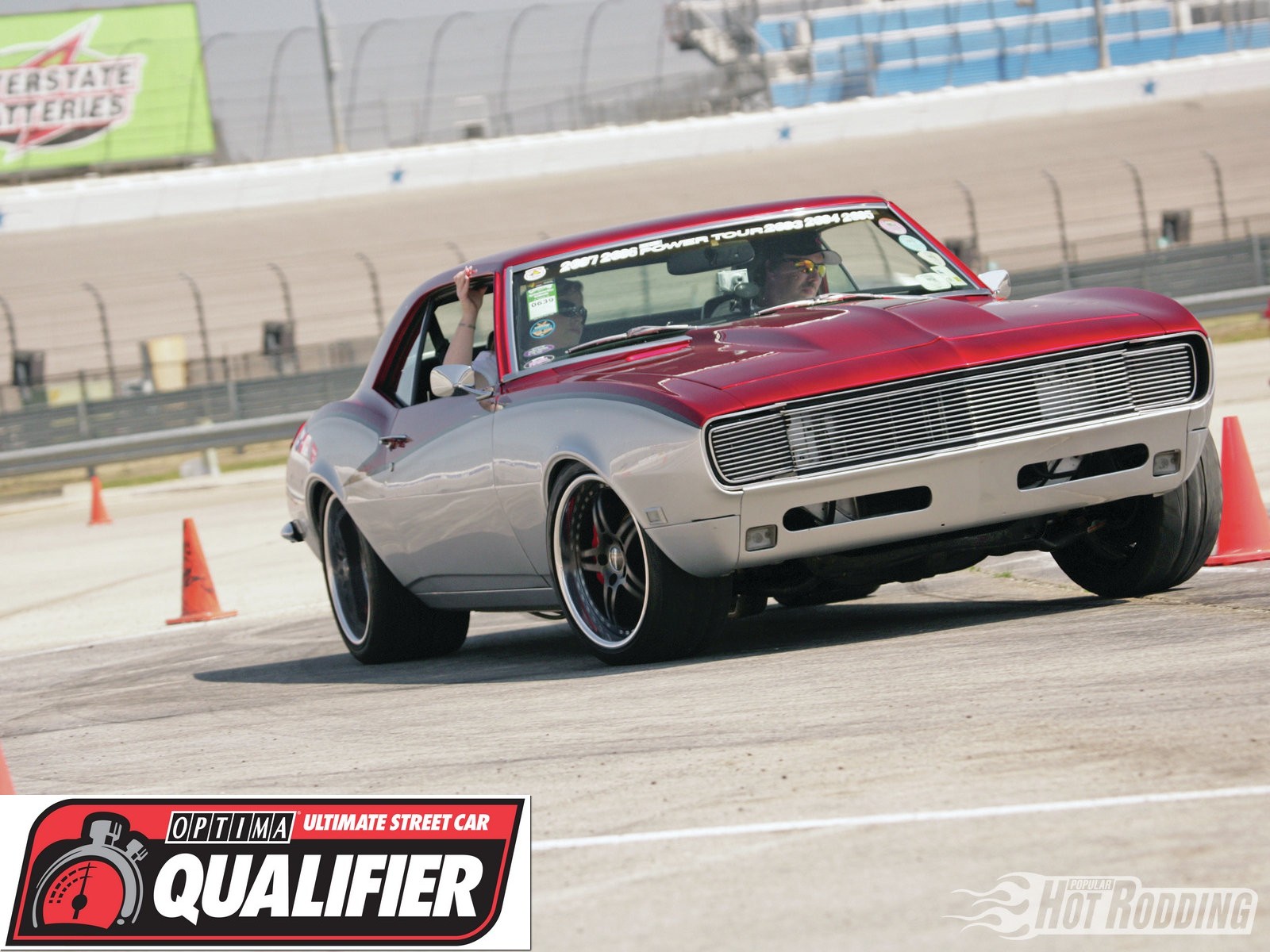 Ultimate Streetcar
Sponsor

OPTIMA Batteries

Location

Milwaukee, WI
Brian Finch was crowned King of the Hill at the annual Run Through The Hills event last weekend, but as he has already qualified for the 2011 OPTIMA Ultimate Street Car Invitational (LUSCIOUS), that meant Terry Neuville and his 1968 Chevrolet Camaro had his ticket punched for SEMA and the 2011 OUSCI, presented by K&N Filters Wilwood Disc Brakes. As you can see from the windshield, Terry's '68 is a driver and has made several appearances on the Hot Rod magazine Power Tour, as well as several visits to the autocross course, including this thrash at a recent Goodguys show, which was captured by the expert lensmen from Popular Hotrodding magazine.
Terry's invitation is the final of seven known invitations to be handed out at qualifying events around the country and the OUSCI race directors have been busy handing out invitations to several other potent contenders. The OUSCI field is now taking shape and in addition to Terry's invite, invitations have been extended to the following cars and drivers:
· Vinnie Allegretta, 1969 Chevrolet Camaro
· Erik Cederberg, 2010 Chevrolet Camaro
· Carmine Dell Aquila, 2010 Nissan GT-R
· Hartmut Feyhl, Mercedes-Benz RENNtech C74 Widebody
· Brian Finch, 1972 Chevrolet Camaro
· Phil Gerber, '66 Chevy II Nova
· Wanda Goldberg, 1970 Pontiac Trans Am
· Matt Harber, Cadillac CTS-V
· JF Launier, 1957 Chevrolet Bel Air
· Dan Livezey, 1969 Chevfrolet Corvette
· Mike Musto, 1969 Dodge Daytona
· Brian Moat, 1970 Pontiac Firebird
· Dan Oliver, 2010 Ford Mustang
· Zeke Peterson, TT VR6 AWD Volkswagen Beetle RSI
· Danny Popp, 2006 Chevrolet Corvette
· Mary Pozzi, 1972 Chevrolet Camaro
· Mark Stielow (2010 OUSCI Champion), 1969 Chevrolet Camaro
· Brad Twiss, 1994 Toyota Supra
· Kyle Tucker, 1970 Chevrolet Camaro
· Stacy Tucker, 1969 Chevrolet Camaro
· Bret Voelkel, 1967 Chevrolet Camaro
The current qualifying drivers range from newcomer enthusiasts to seasoned industry veterans, all of which will not disappoint spectators and fans that gather for the highly-anticipated competition. The vehicle selections represent a variety of industry-leading muscle cars, pro-touring cars, hot rods and street trucks, from both import and domestic manufacturers. Initial qualifiers were recruited through a series of events of similar format that tested drivers' skills and vehicle performance power.
"We couldn't ask for a more exciting initial list of vehicles for the 2011 OPTIMA Ultimate Street Car Invitational. The qualifying events brought in an unprecedented turnout and resulted in a wide range of vehicles that represent all segments of the performance automotive aftermarket industry," says Cam Douglass, Director of Product Development and Marketing for OPTIMA Batteries. "The event has grown incredibly since its inception a few years ago and we are fortunate to have such amazing support from sponsors, fans, media partners and participants."
Besides racing in the OPTIMA Ultimate Street Car Invitational, participants also get an automatic invitation to feature their car at the 2011 SEMA Show, compete in the event, gain awareness through hundreds of print and online articles, and will be featured in the broadcast special filmed around the event.
The final, pre-SEMA round of finalists will be announced during the first week of October. After that, there will still be one additional opportunity to qualify for the OPTIMA Ultimate Street Car Invitational. At SEMA, a committee made up of OPTIMA and industry representatives will walk the show floor in Las Vegas, looking for the best of the best across all vehicle segments. This final search will be promoted during the show and the final vehicle invitations will be awarded during SEMA.
Sponsors of the 2011 OPTIMA Ultimate Street Car Invitational include the presenting sponsors, K&N Filters and Wilwood Disc Brakes, and the race event sponsors, including BFGoodrich, Ridetech, Wilwood Disc Brakes, Raybestos and Detroit Speed and Engineering. Additionally, The Roadster Shop is an associate sponsor for the OPTIMA Ultimate Street Car Invitational.
This year, fans will be able to view the action from the front row for the first time ever. A limited number of spectator tickets will be available for purchase. Spectators and fans can purchase tickets through November 4, 2011, or until sold out (just over 700 remain as of this posting).
The Invitational will take place at Spring Mountain Motorsports Ranch, a state-of-the-art racing facility in Pahrump, Nevada, during the first week of November.
The main race activity of the OPTIMA Ultimate Street Car Invitational takes place on Saturday, November 5th and will offer something for every race fan, with the BFGoodrich Hot Lap Challenge, Ridetech Autocross Challenge, Wilwood Disc Brakes Speed-Stop Challenge, and the Raybestos Performance and Design Challenge. The Detroit Speed and Engineering Road Rally will occur the day before, following the close of the SEMA Show.
For the current list of the OPTIMA Batteries Ultimate Street Car Invitational participants, the official rules, and more information on the event, click here.