The 2012 OPTIMA® Batteries Ford F-150 Pickup Truck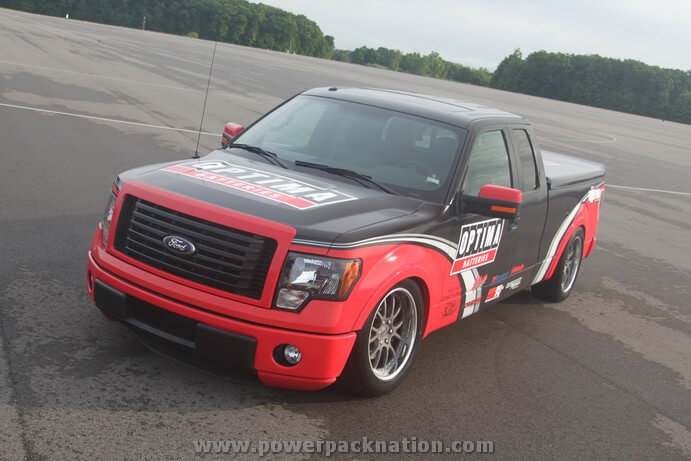 Events
Sponsor

Location
I just spent the last 12 days with a brand-new Ford F-150 pickup truck that OPTIMA is giving away in their 6 Pack Get A Rack promotion at the end of the year and it has been fantastic! OPTIMA took this new truck and added a bunch of really cool upgrades, including tires from BF Goodrich, wheels from Forgeline, Magnaflow exhaust, a KN intake system and suspension upgrades from RideTech.
I think more upgrades are in the works, as hinted by the Wilwood logo on the truck. DZ Customs put it all together with some help from West Bend Dyno, just in time for the Hot Rod Power Tour long haul and the truck performed flawlessly for more than 4,000 miles.
My newest vehicle is my 2003 Ford Excursion, which I've always liked, but this new F-150 shows me how far Ford has come in the last ten years. I have to start with the seats, because that is where I spent the majority of my time. They were comfortable and supportive and the heated and air-conditioned options were a lifesaver!
My wife and I will probably always disagree on what constitutes a comfortable temperature. Even though the air conditioning blew ice-cold, my wife would prefer to go without, even in the heat of Texas. The constant and relatively-quiet breeze between the sunroof and back window (both electric) was a welcome relief from the heat, but being able to turn on the air-conditioned seats without upsetting my wife was what really saved me.
I'm too thrifty to buy satellite radio, but I did enjoy my week with SiriusXM radio and never even ventured near the FM dial. I also really liked back-up camera in the rear view mirror, even though I initially didn't think I'd end up using it at all. The 5.0 Coyote was an absolute beast under the hood and the KN intake and Magnaflow exhaust really brought it to life and turned heads wherever we drove.
The RideTech suspension really helped balance things out, providing a firm and confident, yet comfortable ride from Wisconsin to Michigan, all the way down to Texas and back. Since I knew this truck is eventually going to someone else, I treated it like I would want someone else to treat my truck and I left the traction control on for the entire trip. The BFG rubber and Forgeline wheel combination were flawless and gave the truck a great overall look, that drew questions and compliments from start to finish.
Will I rush out any buy my own F-150 tomorrow? Probably not, but this has experience has definitely got me thinking!