The Raybestos GTO-R; an OUSCI Preview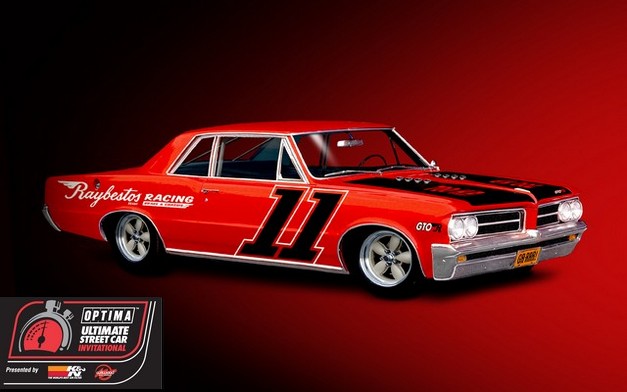 Ultimate Streetcar
Sponsor

OPTIMA Batteries

Location

Spring Mountain Motorsports Ranch
In last year's OPTIMA Ultimate Street Car Invitational (OUSCI), Josh Russell was nice enough to run the '32 Ford Roadster Pickup that Raybestos built as their grand prize giveaway vehicle in 2010. While Russell was thrilled to be in the OUSCI, he'll be the first to admit that wheeling a 400-horsepower pickup truck around a racetrack on bias-ply tires was more than a little bit challenging.

We can't help but feel that the thought of competing in the 2011 OPTIMA Ultimate Street Car Invitational, presented by K&N Filters and Wilwood Brakes, wasn't at least partially responsible for the direction of the new Raybestos giveaway vehicle, as it is about as far from last year's vehicle as possible. At first glance, a '64 Pontiac GTO would seem like a solid choice for a pro-touring build, although a bit on the heavy side, considering many of the favorites are smaller muscle cars and sports cars, like Corvettes, Camaros and Mustangs.
Raybestos brought in Hot Rod Chassis Cycle to build this year's creation and they pretty much eliminated any concerns about vehicle weight. The rear decklid, front and rear bumpers are fiberglass and weigh in at just over ten pounds combined and that's just the beginning. All glass except for the windshield has also been swapped out for polycarbonate pieces, which has also contributed to a weight loss program that brings the Goat in at an amazing 2,800 pounds!
Hot Rod Chassis & Cycle clearly has the GTO covered in the weight department, but what about power? How about a 454 cubic-inch LSX producing somewhere in the neighborhood of 700 horsepower? (it has already run an 11.65 at 128 mph on the dragstrip on street tires) They seem to be covered there as well. If that's the case, then what about the suspension and chassis? Well, the Hot Rod Chassis & Cycle custom chassis has basically turned this into a unibody car, with a JW Rod Garage custom front suspension, featuring coilovers from Ridetech and a Moser 9-inch rear end with 3.89 gears four-link suspension in the back. You can see where this is headed, but wait until you hear about the brakes. Depending on who you ask, there is between $20,000 and $25,000 worth of Raybestos brake parts installed on this ride.
If you can't get enough of this car, check out the feature on it in Hot Rod magazine. You can also watch Rutledge Wood and Tommy Baldwin driving it around Watkins Glen, New York or take a video tour with builder Kevin Tully of Hot Rod Chassis & Cycle, as he shows off some of the cooler features of this amazing machine.
It seems like every car we've been previewing so far has been built to a level that would put it in contention for winning the OUSCI and this GTO-R is certainly no exception. This car has also been finished for a while, which has allowed for plenty of time to test and tune. That lays plenty of pressure on the shoulders of Josh Russell, who will once again be piloting the giveaway car in the OUSCI. Will he be able to do the car justice and show how capable it is on the track?

Add the OPTIMA Network for free on Roku and find out!