The Right Battery For The Job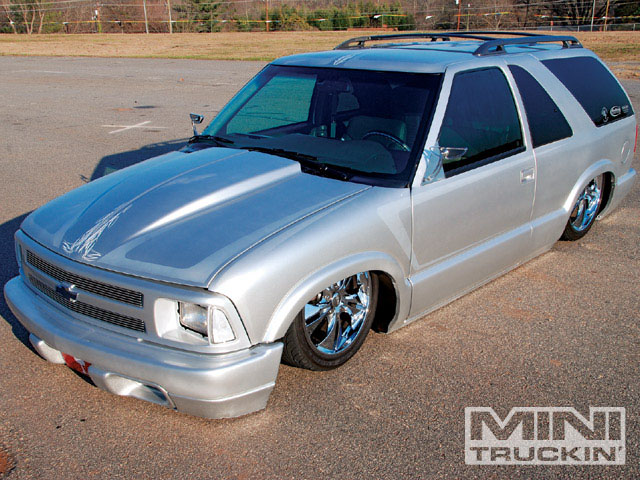 Trucks
Sponsor

OPTIMA Batteries

Location

Milwaukee, WI
Walk into any reputable custom shop and you are likely to find a wall somewhere that showcases all the cars and trucks that shop has built, which have ended up in print. That may be the norm for professionals, but that lightning rarely strikes twice for the Average Joe or in this case, a guy named Barrett Stewart. In Stewart's younger days, he bought and built a '94 GMC Sonoma, which found it's way onto the pages of Mini Truckin' magazine.
As the years went by, Barrett found himself married and expecting a child, making the Sonoma an impractical vehicle for the family man he had become. That was when he acquired this '96 Chevy S-10 Blazer. With the history Stewart had modifying vehicles, it didn't take long for the Blazer to go under the knife. Slammed, bagged and tricked out with a huge stereo DVD player, Stewart once again saw one of his trucks on the pages of Mini Truckin'.
In the list of modifications that accompanied his story, we were happy to see his battery of choice was an OPTIMA YELLOWTOP. OPTIMA YELLOWTOPs are well-suited for both starting applications and deep-cycle use, which often comes hand in hand with the modifications and upgrades Barrett has made. We wish him good luck and thank him for choosing OPTIMA Batteries!