The Roadster Shop's C1RS Corvette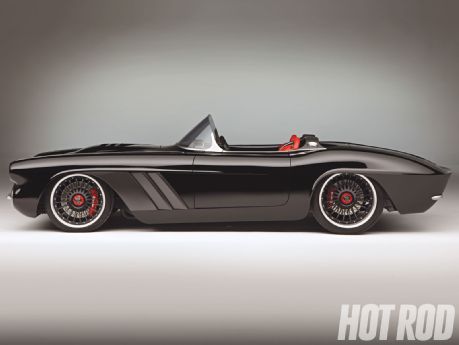 Cars
Sponsor

Location
Amazing cars are the norm at the OPTIMA Ultimate Street Car Invitational, but the Roadster Shop seems to have a knack for bringing cars that stand out, even amongst the stellar fields we assemble year after year. This '62 Chevrolet Corvette is a perfect example of the caliber of car that sets them apart.
Originally purchased as a mule for their new chassis, this Y-body turned into the 2009 Goodguys Street Machine of the Year. Even though Goodguys has added an autocross component to their competition, that is often the most track time SMOTY finalists will see before or after Columbus. That just isn't the case for the crew from The Roadster Shop.
They pride themselves on building street and track-capable cars and trucks that are intended to be driven and driven hard. This Corvette went from winning the coveted 2009 SMOTY, to wowing the crowds at SEMA, to running in the 2009 OPTIMA Ultimate Street Car Invitational.
You can read Hot Rod magazine's coverage on this amazing machine here. You can also check out V8TV's YouTube coverage on the Vette at the 2009 OUSCI.