There is No Quit in Ryan Volk's Mustang (or the rest of the GT class)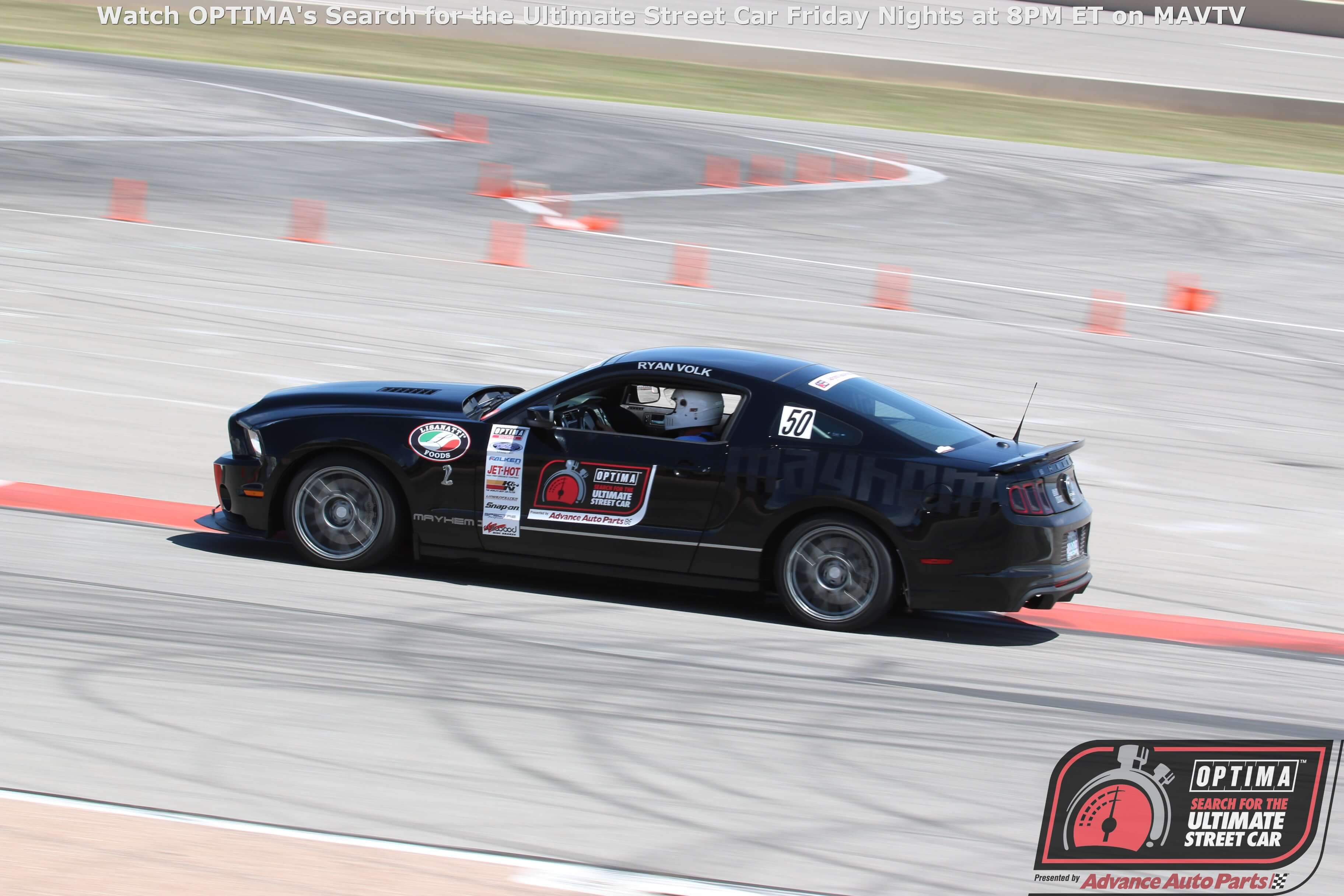 Sponsor

Location
The distance Ryan Volk travels for each event in OPTIMA's Search for the Ultimate Street Car, presented by Advance Auto Parts, is measured in thousand-mile increments. The direct route from Volk's home in Portland, Oregon to Charlotte Motor Speedway is nearly 2,800 miles and that is just one leg of the four trips he will make as he competes for a chance to be invited to the 2015 OPTIMA Ultimate Street Car Invitational. His other trips to Pike's Peak International Raceway (2,700 miles roundtrip), Road America (4,100 miles roundtrip) and Auto Club Speedway (2,000 miles roundtrip) all seem to illustrate the lengths to which competitors in this series will go to win an event, win the points chase, get invited to SEMA and the OUSCI or just have a lot of fun on a racetrack with a great group of folks.

Volk is not alone in his pursuit. Fellow GT competitor, Ken Thwaits of Tennessee has run and qualified three different Camaros in the GT class and is now running a fourth car in the GTL class (he only gets to bring one to the OUSCI). Fellow Volunteer, Chandler Premo has run three events so far and is committed to running Road America and making the long haul out to California for the Auto Club Speedway event.

Speaking of California, Dannie Pinard's Camaro has already run in six qualifying events and the season finale will mark his seventh of the year. Texan, Cliff Elliott, hurt his Mustang in Las Vegas earlier this year, fixed it and has since come back to run two more events and is signed up to run a total of five this season and only one was anywhere near his home. Kentuckian, Jason Chinn, has run his Camaro in three events already and even though he has already qualified for the OUSCI, he's signed up to run the final two as well.

The list can go far deeper than that, but the point is that for as much fun as this series is, folks can get pretty serious about their fun and many have made big commitments to do it. By season's end, more than 100 cars will have competed in the GT class and with seven events complete and two remaining, there is still a lot left to be decided.

Seven of the top-ten GT competitors have already qualified for the OUSCI, yet seven of the top-ten and 16 of the top-20 are signed up to run in at least one of the remaining qualifying events and one of the four who isn't running is Danny Popp, who will be competing in both events, but in a different class. The GT class for Fontana alone includes a field of 25 cars. While there are definitely points to be had, there are clearly a lot of folks going after them.

They're all chasing GT point leader, Bryan Johnson, but he has already accumulated such a significant lead, it would be tough to catch him. Danny Popp could do it, but it would take a lot of "ifs" including if Bryan struggled at the Fontana event and if Danny did well and ran in the class (but he is not signed up to do so). The same is true for Jason Chinn, who could catch Johnson on paper at Fontana, until Johnson makes it through the Lingenfelter Design Engineering Challenge and the Road Rally.

Third-place competitor, Ken Thwaits, could also catch Johnson on paper under similar circumstances, if he remembered which Camaro was in third place, as opposed to his 17th-place Camaro or his 21st-place Camaro (we're pretty sure it's the black one). While Popp appears to be done in GT for the season, the participation of Thwaits, Chinn and fifth-place Ryan Mathews in the remaining two qualifying events are likely to draw a lot of available points out of the pool for those drivers still looking to qualify for the OUSCI and that list is not a short one in GT.

Dannie Pinard passed on Pike's Peak and will do the same at Road America, but expects to compete in this third double-points event of the season at Auto Club. If he puts in a consistent performance (and Thwaits and Chinn don't consume too many points along the way) Pinard could end up somewhere in the range of 480 points on the season. Chandler Premo's BMW is less than 12 points behind Dannie's Camaro right now and could end up in a similar position.

Casey Woodside's Camaro is the lone top-10 competitor, who is not signed up for either of the remaining qualifying events and 11th-place Gregg Guerrettaz is less than a point behind him and will likely move past him in the standings with a good outing at Elkhart Lake. Elliott's strategy could give his Mustang almost 420 points after Fontana, which he hopes will be enough to get him into the OUSCI field.

Competitors have multiple ways to qualify for the OPTIMA Ultimate Street Car Invitational, including winning their class at a qualifying event, being the top non-qualifying finisher in a class, if those in front have already qualified, winning the KN Spirit of the Event invitation or winning the OUSCI in the previous year, as defending champion, Danny Popp did in 2014. Competitors can also earn their way in, based on their season point totals. The top competitor in each of the four classes at the end of the season, who has not already received an invitation to the OUSCI will get one, as well as the next 11 competitors across any of the four classes, based on their season total in points.

In the GT class, that means Pinard and Premo will be battling it out for that top qualifying spot in GT, even though Johnson will likely have won the GT championship. After that, it comes down to a wide-open points chase across all four classes, with the remaining competitors hoping they'll have enough to get in the show. Mike Hamrick's '66 Mustang from the GTV class is currently on the bump spot at 326.0033 points, but our projections suggest that number will likely move higher and there are quite a few competitors who look to be finishing up in the range of 350-450 points.

The wildcard in all of this is the KN Spirit of the Event invitations, of which five remain (four at Road America and one at Fontana). If those invitations go to competitors with higher point totals, it could help move others up. If they go to competitors who are further back in the points chase, it could make things very tough for those looking to get in on points.
GT competitors who could find themselves in the hunt for the those final qualifying spots based on points could include Cliff Elliott, Andrew Nier, Casey Woodside, Gregg Guerrettaz, Bill Hurd, Ryan Volk and Saroja Raman. That's seven people in just the GT class. Multiply that number by four classes and you're looking at least 28 people who will go down to the wire for 11 spots in the OPTIMA Ultimate Street Car Invitational. Things are going to get interesting and you won't want to miss a minute of the action.

Catch OPTIMA's Search for the Ultimate Street Car, presented by Advance Auto Parts, every Friday night at 8PM ET on MAVTV. You can also buy VIP Pit Passes for the remaining qualifying events online at www.driveoptima.com