TMI's Awards For Best Interiors at the 2023 SEMA Show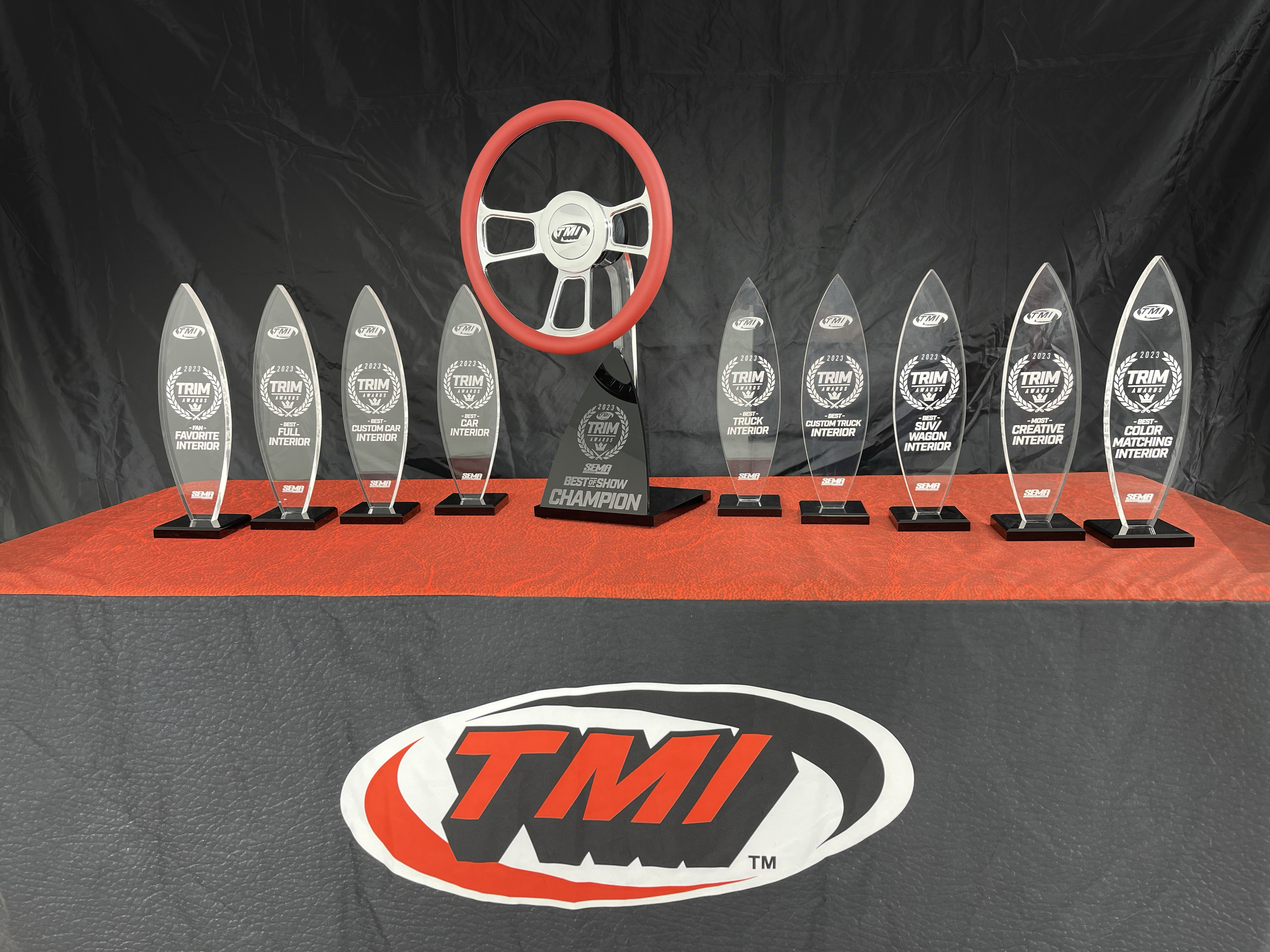 Events
Sponsor

TMI Products

Location

Las Vegas, NV
The TMI TRIM Awards at the 2023 SEMA Show returns after a very successful inaugural launch in 2022. At the 2022 SEMA Show, the Best of Show Champ title went to Wes & Vivian Rhydell for their impressive 1941 Chevrolet two-door Fleetline, a creation by Rad Rides by Troy. This year, the TRIM Awards promise even more excitement, with an expanded lineup and a nationwide search for the finest vehicles outfitted with TMI interiors. The TRIM Awards gained significant momentum after their partnership with Barrett-Jackson, which culminated into the TRIM Awards Road Tour—a nationwide search for the best TMI equipped vehicles. The judges selected Dana Estes' Chevrolet C10 as the Road Show Champ, earning him a coveted spot at the 2023 SEMA Show, where his vehicle will be on display at booth #V196 in the Central Hall.
Showcasing the Best Vehicle Builds
The 2023 SEMA Show TRIM Awards shine a spotlight on exceptional vehicle builds, focusing on the interiors of cars, trucks, SUVs, and wagons exhibited at the Las Vegas Convention Center. These vehicles are equipped with the latest parts to make their engines go faster, suspensions perform better, body panels appear straighter, and interiors shine brighter. TMI, the industry leader in complete interior components, seeks to acknowledge the dedication and craftsmanship of these builders. The SEMA Show is known for showcasing the finest vehicles, and interior design plays a pivotal role in elevating these automotive masterpieces.
Recognizing Thoughtful Interior Design
SEMA brings together the very best of the automotive aftermarket world, and TMI aims to recognize the best among them, especially in terms of interior design. The TRIM Awards were created to celebrate the meticulous planning required not only to craft a custom vehicle but also to seamlessly integrate the interior into the overall design.
Prizes and Recognition
TMI is not just awarding custom trophies to winners. Each recipient will also receive fantastic prizes from esteemed industry partners. This includes an invitation to the 2024 Barrett-Jackson Cup in Scottsdale AZ, courtesy of Barrett-Jackson, as well as prizes from Mothers Polish, FiTech, and OPTIMA Batteries. Individual category winners will also be presented with a TMI $500 voucher, while the Best of Show Champion will receive a certificate for a complete TMI interior for their next build, valued at $10,000.
Expert Panel of Judges
The TRIM Awards will be presented by a distinguished panel of industry insiders, including:
Kevin Oeste: Host of V8 Speed & Resto Shop and the voice of SEMA 2023.
Sean Holman: owner of Use For Adventure Agency and co-host of The Truck Show Podcast.
Sara Morosan: the 2021 SEMA Person of the Year, multi-Ford Design award winner, and owner of LGE/CTS Motorsports.
Theresa Contreras: PPG Brand ambassador, Multi Ford Design award winner, and owner of Baja Forged.
Marcel Venable and Jason Mulligan: co-owners of Auto Revolution and Car Guy Confessions, representing the custom automotive video team.
How to Enter
To enter your vehicle in this years TRIM Awards, you must first have it on display at SEMA 2023. Having a TMI Interior in the vehicle is not a requirement as many of the awards are a celebration of creativity and design. The awards ceremony will take place at the TMI Booth in the Central Hall, booth #24477, at 12:00 PM on Wednesday, November 1st, 2023. Winners must be present during the ceremony to receive their trophies and bask in their well-deserved recognition.
TRIM Awards Categories
The TRIM Awards feature various categories, including:
Best Car: Open to any car featuring TMI seats.
Best Truck: Open to any truck featuring TMI seats.
Best Custom SUV or Wagon: Open to any SUV or wagon, whether two-door or four-door.
Best Full Interior: Open to any vehicle running a full TMI interior, including all available components from that model line.
Most Creative: Awarded for the best use of patterns, colors, and overall execution.
Best Color-Matching: Recognizing the best use of patterns, colors, and stitching that matches the vehicle's exterior.
Best Custom Car Interior (open to all Cars at the show): Can be any vehicle with any type of custom interior.
Best Custom Truck Interior (open to all Trucks at the show): Can be any vehicle with any type of custom interior.
Fan Favorite (Chosen on Social Media): Finalists chosen by TRIM Award Judges will be displayed on TMI Social Media channels for audience voting.
Best of Show Champion: Judges will vote on their favorite vehicle at SEMA 2023, crowning it with the TRIM Award's highest honor.
The TRIM Awards Rules
To compete for the TRIM Awards, all vehicles must be registered and on display at the 2023 SEMA Show and registered with TMI for easy identification by the panel of judges. Judging will begin on Tuesday afternoon, October 31st, with the announcement of the top 20 vehicles from TMI's SEMA booth.
The crowning of the TRIM Champion will take place on Wednesday, November 1st, at TMI Products SEMA booth #24477, 12:15 PM PST. Thank you to all participants for their entries and to the judges for their valuable time in selecting the winners. Stay tuned for the TRIM Awards 2023 and your chance to enter!
To hear more about the TMI TRIM Awards, tune into: