Toby Thompson's 2010 Chevrolet Corvette- 2016 OUSCI Recap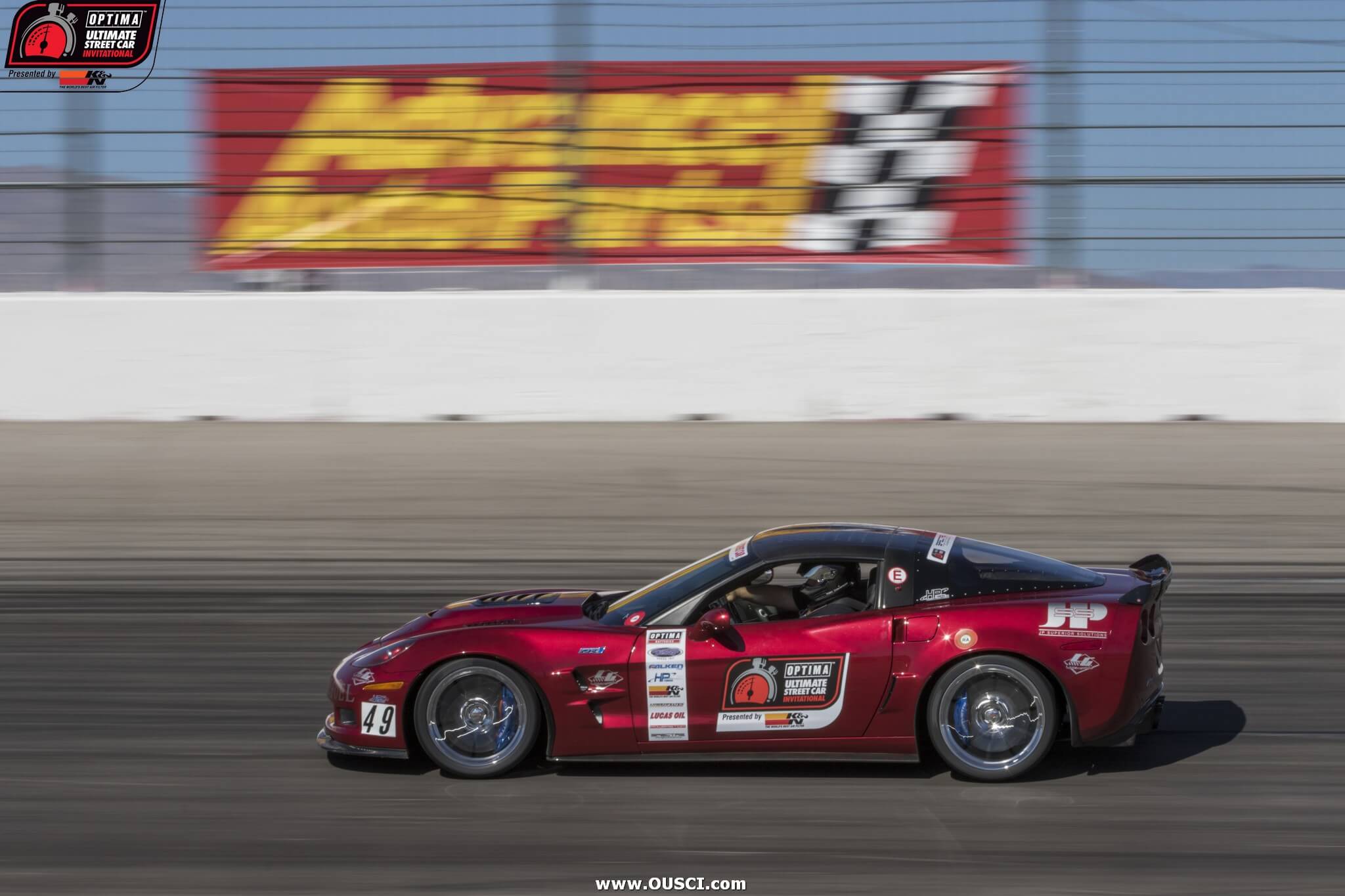 Ultimate Streetcar
Sponsor

OPTIMA Batteries

Location

Las Vegas, NV
When we post re-caps of competitors in the OPTIMA Ultimate Street Car Invitational (OUSCI), presented by K&N Filters, we typically get a brief e-mail from them and add that information to a summary of their performance. However, in the case of Toby Thompson and his 2010 Chevrolet Corvette ZR1, we received so much information from him, that we felt it best to include as much of it as we can. This will be a longer recap than most, but we think you'll find Toby's story pretty compelling.

I purchased this car to compete in OPTIMA's Search for the Ultimate Street Car events in 2016, after running my son's 2006 Mustang GT last year at the NCM event in Bowling Green, Kentucky. I loved everything about the experience, but knew my son's car wasn't up to the task of doing well enough to compete for an OUSCI invite. I was confident that a Corvette would be, so, I got my sights set to find a suitable ZR-1 to compete in these events and use for HPDE days at my home track of NCM Motorsports Park. Along the way in 2015, a friend of mine, Casey Woodside, lost his father after getting an invite to the 2015 OUCSI, which interfered with him making the trip to Vegas last year.

After losing my dad in 2009 to a suicide, I could completely relate to my friend Casey losing his father abruptly. While his father's life was taken under completely different circumstances, it's still a hurdle to cope with losing people in our lives that mean so much. I got together with Casey at the end of last year and we both set a plan of attack for the qualifying schedule for 2016 with the full intent of making the OUSCI. I think it was a way for him to help cope with losing his dad, while for me, it was a journey of some unfinished business with my own father.

We had my dad cremated in 2009 per his request and while at his funeral service, a few of his friends had talked to me about my father and made reference to the memories he shared with them about trips that he and I took together to Las Vegas. The problem is, we never took any trips together. My father was an OTR (Over The Road) truck driver and I was a National Sales Manager for Capital Machine tool equipment. Neither one of us ever took a vacation anywhere, much less with each other. However, we both shared stories with each other about our independent trips to Las Vegas. While I was listing to these stories that my dad shared with his friends at work, I slowly was able to start piecing together the stories and realized what he had done. My dad had merged together the stories to present them as a shared memory and experience. He never told them these trips were not taken with each other, he simply let them assume it was a story of a trip that we had taken together.

Losing my father under those circumstances was absolutely devastating. It took about three to four years to really wrap my head around what had happened. After a few years of thinking, it was obvious what needed to be done. I had to lift my head and start enjoying life a little more. My father had taught me everything I needed to know about hard work and providing for my family. What he struggled with, was learning how to find balance and learning to sit back every now and again to enjoy the fruits of his labor. So, I decided to make the qualifying circuit a family trip with my wife and my dad. My plan was to spread his ashes at all of the tracks we went to and earn my way to Vegas at the end of the year. If I pulled this off, I could finally share that Vegas trip with my Dad. I also had to show him why my passion for fast cars runs so deep. My dad would always tell my older sisters, "I don't know why he has to have a car so God damn fast!" I wanted to use these events as an opportunity to show him exactly why I needed a fast car.
So, we set out to earn an invite to OUSCI this year, starting at the qualifying event in Las Vegas. I didn't spread my dad's ashes at this event, because I felt like it would've made it okay to not finish the series without an invite. The overall goal is to take this trip together to Vegas, not just with him for the trip we never took, but also to earn this trip with my wife and hopefully watch Casey get his shot at the invite again. I wanted to have a wonderful experience traveling the US with my wife, my dad and my friends. I was excited to make new friends and have them become a part of this adventure. For the rest of the events, I put my dad's ashes in an old plastic 35mm film container. That container rode with me for every portion of the event and on the last day. I would spread his ashes at the road course or near it. With that being said, here is the journey of the car.

The Corvette I ended up finding is a 2010 crystal red metallic ZR-1 and 100% of the modifications for the car have been for this series and as a result of running in it. The car was originally purchased for $130,000 at a dealership in Las Vegas, Nevada back in 2010. The first owner actually sued GM over this car using the lemon law and won. Apparently, the owner purchased the car and hated the way it felt driving down the road. He thought it pulled too much when cruising and had it in for warranty repairs many times. It is my understanding that the steering rack alone was replaced at least four times to try and comply with his driving comfort.

In short, the original owner purchased a $130,000 car, expecting something from it, that it was never designed to do. He wanted a luxury car-quality ride and not performance, track-minded handling. Because the car spent more time in for "repairs" than it did in his hands during the first 18 months of ownership, he won the lawsuit. I felt this was the perfect car for me, because I was going to be able to give this car an opportunity no one else would. I was going to give it an opportunity to do exactly what it was designed to do- live life running at speed on a racetrack and also be driven comfortably on the street.
I started upgrades with a four-point roll bar, so I could add six-point harnesses. This would allow me to use a HANS device, instead of a neck collar. I also added a set of competition seats from a new C7 Corvette to allow for the harness to slide through the backs of the seats. Ron Fellows' Performance Driving School at Spring Mountain Motorsports Ranch also added a custom alignment for OSUSC events, which was a hybrid for use on both the autocross and road course.
April 16-17 Las Vegas Motor Speedway

After those initial modifications, my car went to Las Vegas Motor Speedway for my first event of the year (the series had already run at Thunderhill). I earned 403 points in a field that was not sold-out and after seeing the results from this event, I soon realized simply showing up with a stock ZR1 with extremely mild modifications was not going to be enough to earn an invitation based on points. The car needed more power and better handling to be more competitive on the track. I never really concerned myself with my scores for the Design & Engineering segment of the event. I only used the fact we had a D&E component as a "standard" to approach my strategy for performance enhancements. When I need to make a change, the mere fact we have a D&E component is what made the upgrades fun and made it more of a challenge to be creative and thoughtful with what I did to the car.
When I returned home from Vegas, I began to investigate how to make the ZR-1 better. I needed a little more stability at higher speeds and a little more rear downforce, so I added a rear spoiler that was a touch longer and made of exposed carbon fiber. I also added a lower rear diffuser that had longer air spoilers on it and was also made of exposed carbon fiber. I also added a Katech undertray up front and relocated the brake air ducts to the front inlets of the car. In doing this, I also discovered I had a bad catalytic converter and figured this was the cause of the car being down on power. Raymond's Performance changed the catalytic converters for me and I addressed the aerodynamic modifications in my shop before we set out for New Jersey.

May 21-22 New Jersey Motorsports Park
New Jersey did not turn out so well. I ran the car on Friday for the test & tune sessions and the car was dialed in and running very good. I was using a ton of fuel that day though- twice as much fuel per session on the road course than I ever have in a 15-minute session. When I went to start the car on Saturday morning, it wouldn't fire. It turns out the fuel pump driver module was bad and could not be fixed trackside that weekend, which made New Jersey a bust for points. Simply another issue arising that needed to be addressed in order to prove itself as the ultimate street car. The car actually got a lift back to Raymond's to diagnose and repair the issue directly from New Jersey.
This was the first event to spread my Dad's ashes. While I did not participate in the challenges for Saturday & Sunday. I did have my Dads ashes with me for the hot laps on Friday. Late Sunday night, Casey Woodside and I were packing our trailer and getting it ready for transport Monday morning. I took that opportunity to put my dad's ashes on the Armco barrier directly across from my trailer. On the other side of that Armco is where the speed stop and autocross was held for the weekend. It felt right. He rode with me for the hot laps on Friday and that was the view we had for the rest of the weekend.

June 11-12 National Corvette Museum Motorsports Park
For this event, I installed yet another spoiler that would offer even more downforce and made the required mechanical repairs to get the car performing again. This time we took a C7-designed, three-stage wicker-bill spoiler and custom formed the design to work with the body lines of a C6 while also using the OEM center wicker-bill system from a C7 Corvette. However, the car still seemed to be down on power and was having a touch of a heating issue. On the first day I finished okay and the second day started out fine. However, during the first session of hot laps, I blew up the clutch out and limped back to the garage.
I earned 374 points at this event and was really starting to sweat when thinking about the points. I had a decent finish in Vegas and got zero points at New Jersey. Finishing this far down the list at NCM proved to be a problem with point totals and I was a little concerned about how feasible this was going to be for an invite, with three events down already. We already saw a number of issues arise that are proving why my car is not the "The Ultimate Street Car." The good news is that we (my wife, Tina & myself) have the car handling pretty good at this point. We just need to figure how to get the car to finish events without mechanical issues. Raymond's actually brought the car down for me from the repairs that happened after NJMP. After blowing the clutch out, I let Raymond's take the car back with them to repair that issue.
At NCM, Tina participated in the series for the first time with her brand-new 2015 Z06. This was her first event and it was the first time she had ever run on an autocross and she actually beat my times! This was the second event to spread my dad's ashes and he actually rode with me on both days in the car. Finally, an event where he got to accompany me and I kind of completed all five segments. I decided to spread his ashes at the course entrance gate that day where cars enter to grid up in the hot pits.
July 9-10 Pike's Peak International Raceway
The car came back from Raymond's Performance with a few more power enhancements and a new clutch. The car now has a Lingenfelter LS9 (blower snout), Lingenfelter 2.6 upper pulley and an LPE cold air kit and is now making more than stock power. Hopefully, we have also addressed all of the older wear items on this car. It does have over 20,000 miles on the clock and most of them have been some pretty hard. The car was dyno-tuned to make a modest 567 hp & 553 tq at the wheels and I went into this event hoping for better points with a solid car, that could actually start accumulating points toward an invite at the end of the year. The performance so far with my "Ultimate Street Car" has proven to be less than stellar and I have barely been able to compete as a street car, much less the "Ultimate" one.

Just like all of the past events, PPIR offers new challenges I've not seen yet and the series puts together a group of tracks that will test almost every car out there. This location is set at an altitude of over 5,300 feet on what turned out to be some of the hottest days I have experienced all year. I saw temperatures around the mid-90's that weekend. High altitude with killer heat along with a killer heat index was physically taxing and the cars did not like it at all. I fought overheating issues all weekend, between the car having issues and the tires. It was a constant battle to stay in the game all weekend. Because of Tina's experience running her car at NCM, we brought her car out to run at Pike's Peak as well. Her car ran extremely well and only saw heat-related issues a few times. Mechanically speaking, her car is turning out to survive these events better than my ZR-1 has.
This was the third event to spread my dad's ashes and I turned this event into a full family affair. My son, Chase, came along on this trip and we were able to drive up Pike's Peak on the Friday before the event. It was pretty exciting to have three generations at the top of Pike's Peak. I also brought my dad with me when I rode with Tina for one of her hot lap sessions. That day, I spread his ashes while I was on grid in the hot pits, after having ridden with his son, his daughter-in-law and traveling up and down Pike's Peak with his grandson. This may have been the hardest moment to spread his ashes and without this series, I would've never thought to travel to Colorado to do something like that.
I finished the event at Pike's Peak with a score of 423 points and I left needing to address overheating issues and also the lack of power to simply compete with the other drivers who show up at these events. More importantly, I had to address getting more points and the remaining events. Without doing that, I had zero chance of the entire goal for a final trip to Las Vegas. With only a 1,200-point total and four events down, something had to change and it had to change fast.
July 30-31 Charlotte Motor Speedway
Between PPIR and Charlotte, the car went back to Raymond's to get a new exhaust. We put a set of two-inch Kooks long tube headers on the car with high-flow cats and an Akrapovic exhaust system. The car dyno'ed in at 596 horsepower & 612 lb.-ft of torque at the wheels. I also added a custom-made steering wheel from Nexon Motors, a company out of Istanbul, Turkey. This steering wheel has a thickness of three millimeters more carbon fiber than any aftermarket steering wheel in the world for a Corvette. It was custom-built for me to my specifications, as I wanted the largest diameter steering wheel I could get and they were the only company that would make it that thick for me.

After overheating and trashing a set of tires at the PPIR event I ordered a new set of C7 Corvette Grand Sport wheels and had them stripped of the black and chromed. I could have easily replaced the tires on the other wheels. However, we needed lighter wheels. I wanted to put FORGELINEs on the car, but they have extremely long lead times and we simply could not get them in time for this event. I also picked up a new L98 (C3 Corvette)-style hood to address some of the overheating issues that came up at the Pike's Peak event. I almost added hood vents to the stock hood, but because of the D&E aspect of this series, I wanted something a little different. Something that was not as "easy" as adding vents or just cutting holes in the hood on the car.

I ordered this new hood from ACS Composites and had louvers in the hood where the ZR-1 clear window would go. I also added "TrackSpec" hood louvers to the sides of this hood and had it painted to match the color of the car. The louvers were painted a C7 Corvette color, Carbon Flash Metallic, I also had the experimental C7-designed rear spoiler painted this new trim color from GM.

Finally, everything started to come together for our quest to get to Vegas. The car was performing very well and everything that I did to the car to prove it was the up to "The Ultimate Street Car" challenge was starting to pay off. I finished at least in the top-13 for every segment at this event and this was also the first event that I finished in the 2016 season, that the car did not need some sort of repair afterwards. I had some fuel issues on the oval, but nothing that proved to be a show-stopper.
This was my fourth event to spread my dad's ashes and this track had to offer something for a ridealong that no other track we ran this year could- incredible speed. My Dad got to truly experience "Why I needed a car so God damn fast" coming off of NASCAR turns one and two at around 130 mph, only to keep accelerating up to 150 mph after coming off of the banking and shutting it down to 100 mph as I went to the back side of the track. That was an experience like no other for both of us and that is why we all need a car to go fast! That day, his ashes were also spread while I was on grid in the hot pits and what an adventure this series started shaping up to be.
I finished this event with a score of 462 points, which gave me a total of 1,288 points for the season. What was projected to be one of my lowest point events became my highest. I felt like I was pretty solid getting an invite on points after this event and now the pressure was off and I could sit back and just enjoy the experience at the remaining events.

August 6-7 Circuits of Americas

There were no changes for the car at this event, I just bled the brakes and changed the oil. This venue was amazing. I was able to see friends from both sides of the country and I was able to unload the car, run the event and load it back up. I finished this event with a score of 432 points, which increased my total on the season to 1,317 points. I was really holding my head high with a finish that high at this event, which had the largest and maybe the most-competitive field of the year.

That point total was higher than the events I ran at Las Vegas, PPIR and my home track, NCM. I was feeling very good about possibly having put together a car that could actually compete in this series. Tons of people are building cars for Pro-Touring, autocross or time attack, but I'm building a car for OPTIMA, a new purpose-built car segment. It has to look good, but it has to perform even better. It has to make tight, low-speed maneuvers and it has to be able to perform well in a drag race-type scenario while also coming to a complete and controlled stop. It needs to be able to perform well at a road course and drive down to the local burger joint and grab dinner. All while looking good at a car show. This is truly shaping up to be in a league with very few others, but is it becoming "An Ultimate Street Car?"
For the fifth event, I spread my Dad's ashes very similarly to New Jersey, putting them on the concrete Armco barrier that separated the back of the garages to the hot pit lanes. This is an area where all the great F1 drivers and crews spend their time. When we were not in the car making laps on Sunday, he was with me watching others come down that front straight and dart up the hill to turn one.

August 27-28 Road America

Again, just like the last event, there were no changes to the car other than bleeding the brakes and changing the oil. Every event that we did this year offers something new that the last one didn't have and each and every one of them are unique. This event allowed us to spend all day Saturday watching the Infinity NASCAR race from the infield at Road America, with all three car segments being done on Sunday. It was a bit of an "Ironman" approach, but there was no rest for the weary. Both man and machine had to perform well in one day.

Road America proved to be too much for the car. I had a fire start in the rear on top of the transaxle under the car while making a hot lap and I wasn't aware of the fire when it started. I thought I simply missed a turn because of bad driving, but it turns out the wiring harness had melted and caused me to lose my ABS and my stabilitrak system. I was still not aware of the fire and I finally pulled into the garages and parked the car for a while. It was at that moment, that the fire finally started to blaze out from under the car.

All hands were on deck from the drivers still in the pits, using countless fire extinguishers, helping to keep the fire at bay until the Road America safety crew showed up. That experience really showed me what type of comradery and friendships people forge while participating in this series, with other drivers willing to put their own safety at risk to help someone else. It was a very humbling experience and not one that will ever be forgotten. Tina also drove in this event with her car and it looks like she has got hooked on participating. Her car did fine and she did great...up until her husband's car caught on fire. After that, her driving didn't seem as focused. Go figure!

I finished this event with a score of 369 points without even getting a score for the Detroit Speed Autocross, which really puts perspective to how far this car has come this season. I was only five points short of my total at NCM, where I finished all the segments. Even though the car came up short on points at Road America, I still felt I had enough season-long points to get into the OUSCI and SEMA Show, I just had to get the car fixed. I will admit, it was at this point I actually regretted not taking my dad with me and spreading his ashes in April. The fire did a ton of damage to the car and I was so exhausted, I couldn't guarantee if I had spread the ashes in April, that I would've fixed the car and come back for the OUSCI.

I actually spread my dad's ashes two times this weekend, once while we staged on the grid for hot laps and again, when I was getting my car winched into my trailer after the fire. While some might say this weekend had some sad moments, I have to say, I am proud of what we accomplished together as a family and the experience that I gained with my wife and my dad. The support from close friends that day was overwhelming and the community that surrounds this series is unbelievable. Not just the drivers, but their families, support crews, series sponsors, event staff, volunteers and people that I have no idea where they came from. All of them ask about your well-being and offer to help with anything they possibly can.

They weren't asking because they were just curious about what had happened to my car, but with great sincerity that I have not experienced before. While what happened that day was unfortunate, I cannot express how fortunate I felt to have had these people surround me and my family that day.After I returned home from Road America, I went to work getting "FireBall" not just repaired, but making it a safer, faster and more reliable car in the process. It was truly an effort to make it "The Ultimate Street Car."

September 17-18 New Orleans Motorsport Park

NOLA turned out to be an event with a completely different purpose versus all the other ones I did in this season. This event was 100% dedicated to my wife and friends. It was a farewell event for us to the 2016 regular season and the quest to earn points for an OUSCI invite. We signed Tina up as a driver and I decided to bring out another vehicle, since the ZR-1 was far from done and/or ready for another event.

We left the Vette in Nashville and brought out an SVT Ford Lighting to have a little fun, but something unexpected happened along the way. Tina started to love these events as much as I did and decided she wanted to chase down enough points to make it to Vegas and prove to herself and everyone else, that the car she loves is worthy of the title and that she is also driver enough to compete. I tried to support my wife for a last minute shot at an invitation on points, but we ultimately came up short. Tina ended up as the first person out on the points, but we hope to come out swinging in 2017 with her car and full intent to earn her way to the OUSCI.

While NOLA did not secure my ZR1's invite, it offered insight to what the series means to me and the travels we had all year. I was still able to spread my dad's ashes that day but not with the same intent as before. This time it wasn't so much a quest to show him my interest in cars and speed. I used this event to share with him the bonded relationships I made with other people this year. Sharing with him the values that he taught me and the "Never Give Up" attitude and approach to everything in life.

The travels I took with my family and friends this year revealed a lot about myself and others. I learned that everyone has a story to tell. Each person I met this year has a unique experience that led them to the event, where I got to know them. This series is no longer about the car for me, it's about the experience and the people. It is an opportunity to truly pour your passions into building a vehicle that you love and one that can be the best at everything. An opportunity to share your passions with other people, who are just as excited about what you're doing, as they are about their own projects. I'm out here making friendships that will last a lifetime and putting a little more purpose back in my life, where I once thought it might have been lost. It is an opportunity to share with those closet to me.
While the ZR-1 had a ton more power and upgrades that are 100% attributed to us running OSUSC events, I may not come out of the other side being able to say I earned the title of "The Ultimate Street Car." I will feel confident that I have successively earned my right to say we have spent all year building and proving that I have "An Ultimate Street Car."

We earned our way out there and took a that trip that was never taken before with my dad. I cannot describe how blessed I am to be able to have had that moment with all of these people I have grown to love in this series. I will never be able to express in words what it means to have my wife alongside me for this journey and how important she was in making all of this come together this year. Her support was all that kept me going.

So how did Toby finish up in Las Vegas? Not bad! His car finished 32nd in the Lingenfelter Design & Engineering Challenge, picking up 69 points. He was 41st in the Detroit Speed Autocross, just 14 thousandths of a second faster than Chris Porter's 948 Porsche, which was worth 60 points. His 52nd place finish in the Power Stop Speed Stop Challenge was even closer, as he edged out the 1970 Camaro of Nick Relampagos by just 6 thousandths of a second. The Falken Tire Road Course Time Trial was his strongest segment and Thompson ended up in between Kyle Tucker and Chris Jacobs in 15th place overall, picking up 86 points for a grand total of 364 points. That placed him in the upper half of the 2016 OUSCI field in 32nd place overall.
Thompson looks to return in 2017 with an even more potent combination. If you'd like to see more of this series, you can catch episodes on-demand for free ANYTIME ON THE OPTIMA Network on Roku.