Tough Truck Competition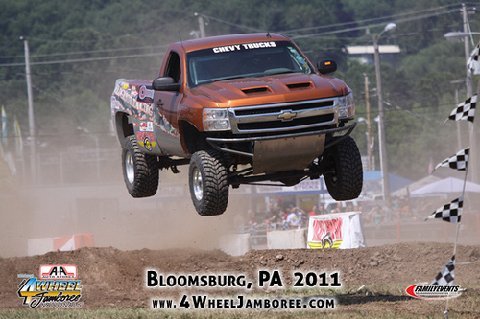 Trucks
Sponsor

OPTIMA Batteries

Location

Lake City, FL
In the Mickey Thompson Tough Truck Challenge, competitors race on a closed course, where as you can see, they'll catch plenty of air and take corners at top speed. One could equate it to the off-road version of an autocross and the bottom line is, you need a well-rounded truck to compete. We sponsor Wild Gator Racing's entry in the modified class and what makes their truck unique is that they actually drive their truck to and from competition. In fact, they are the only competitor who drives their truck to and from competition.
The Wild Gator Racing GM-sponsored Chevy Silverado 4x4 E85 SEMA project is often over-matched in the modified class, since their truck is basically stock, with 70,000 miles on the stock engine, transmission, transfer case and rear axle. Wild Gator's competitors are all brought in on trailers and most feature engines that boast well over 500 to 700 horsepower. Last weekend, they beat out 11 other trucks to qualify 14th and finished in that position.
They may never win in the modified division, but if we ever had an Ultimate Street Truck Invitational, they'd definitely be first on our invite list! See more wild offroad racing content here.