Trailer Towing Tips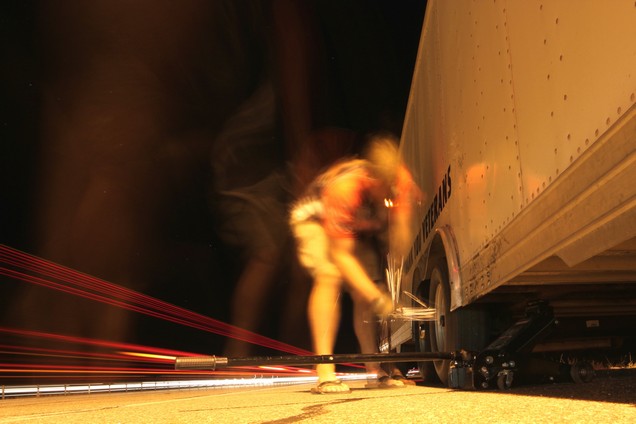 Tips & Support
Sponsor

OPTIMA Batteries

Location

St. George, UT
The Power Source Blog has been relatively-quiet the past few days, as I (OPTIMA Jim) have been busy hauling Mark Stielow's Red Devil Camaro from Michigan out to Willow Springs in California. Surprisingly, this is not the first time I've hauled something from the Midwest out into the middle of the desert. I decided this would be a great opportunity to share some things I've learned about towing trailers over the years.

Tandem Axle Trailers Are Worth It!
About ten years ago, I made a habit of renting a houseboat on Lake Mead and brought my ski boat from Wisconsin for the week. When I ordered the boat, I knew I would be putting some serious highway miles on the trailer, at least towing it from Seattle back to Wisconsin at some point. For that reason, I ordered a tandem axle trailer. There's nothing like having an extra tire to get you safely to the side of the road (or next off ramp), if one of the other three fails.
That is exactly what happened on that trip. I had a friend drive along with me and during one stretch, he drove through a desolate stretch of Utah road, while I slept in the back of the truck. My sleep was interrupted by some kind of noise and when I woke up, I asked if everything was ok and if something happened to a tire. My friend said it was just a bump in the road and that everything was fine. When we pulled in for a fuel stop in Green River (109 miles to the next gas station), we realized one of the tires had blown out and we made it safely to the station on the remaining three. One late-night tire change later and we were back on the road, but I watched my tires like a hawk the rest of the way.

Pay Attention To Your Trailer Tires

On the way back from Lake Mead, it seemed like one of the tires had a vibration that was visible in my rear view mirror. I decided to play it safe and pulled into the next service station, where we discovered the tire had an "S" shape in part of the tread and looked like it was also on the verge of failing. I promptly swapped out all four tires and swore off that tire brand for the rest of my life.
As I drove back through Nebraska, I received a panicked phone call from a magazine editor. One of their big advertisers was a trailer manufacturer and they were upset by the lack of editorial coverage they were receiving and were threatening to pull their ads. Since I was based in the Midwest, he asked if I could go to Iowa and write a tech story on towing and trailers. Iowa was on my way home and given my recent incidents, I was more than happy to stop by, write a tech story and pick up a few tips. The article (and a slight variation of it) ended up running in two different magazines, although neither appears to have made their way online, so I'll try to remember the key points here.

Names Are Important
The owner of the trailer company gave me some very sound advice on selecting a good trailer, starting with the name. He told me if someone didn't have enough pride to put their name on the trailer they built, you should avoid it like the plague.

Safety Should Be Everyone's Priority

He also cautioned me to take a close look at the breakaway chains on the trailer. If you're trying to buy a car hauler or boat trailer and the safety chains look like something you used to lock up your bike when you were younger, there's a good chance the manufacturer cut some corners to save a little money. Safety should be your top priority, but if the manufacturer doesn't share that viewpoint and is willing to compromise on the strength of your safety chains, look elsewhere.

Pay Attention To Your Trailer Tires
I know I made this point once already, but tires are really important, so it's worth repeating. Some trailer manufacturers only use specific brands of tires on their trailers. Others use whatever is the cheapest they can buy at that moment. You should always assume the tires on the trailer you bought are the cheap ones and monitor them closely. All tires should have date codes at the end of the D.O.T. ID, with the first two digits indicating the week (1-52) of production and the second two digits indicating the year. It's ok if your trailer tires don't match exactly, but if you're buying a new trailer, you should expect it to have relatively-new tires.

Can You Read The Heat?

Once you own the trailer, make sure to monitor not only tire pressure, but tire and wheel temperature. Significant variations in temperature from one wheel or tire to the next may indicate a problem about to happen. That advice made a lot of sense, so I ended up picking up an infrared thermometer, which I have kept in my truck ever since. Even if you don't want to get your hands dirty at a fuel stop with a tire guage, checking tire temperatures can help indicate if one tire is low on air.

Balance Is Important
As I monitored the trailer tires and the OPTIMA Power Pack Nation Ford Excursion, I noticed the front two trailer tires were running cooler than the back two. I attributed this to the recent suspension swap and slight increase in ride height of the Excursion. The trailer used to tow fairly level, while the Excursion suspension sagged. With the same hitch, the trailer now has a slightly elevated stance at the front and the Excursion no longer sags under load. The Red Devil Camaro was loaded on a good spot and the tail of the trailer didn't feel like it was wagging the rest of the rig, but I decided to buy a 2-inch drop hitch to help level the trailer out further.
When I attempted to buy the drop hitch in Colorado, I found that the hitch holes were punched out and the top was larger in diameter than the bottom, making for a loose fit for the 2 5/16-inch ball. Rather than take a chance on a wobbly hitch, I moved on, hoping to find another between Denver and Los Angeles.

Everyone Has A Plan Until They Get A Flat Tire
It was a little after 8PM, when I was driving through Cedar City, Utah and heard the explosion. Even though I was passing a semi truck, I knew the blown tire was mine and I quickly made my way to the side of the road. A quick inspection confirmed the left rear trailer tire had let go. I had a spare in the trailer and was smart lucky enough to pack my 3-ton floor jack. This allowed me to quickly swap out the tire on the side of the highway, without having to unload Stielow's Camaro or call for assistance. I have since purchased trailer aid ramps for all my trailers, as they take up far less room and accomplish the same task very quickly and easily.
I made my way down to the next exit, where AAA sent a truck to top off the air in my spare. I now also carry a portable battery-powered air compressor. Unfortunately, no one with AAA knew of an all-night tire service in Cedar City or St. George. From my past experience, I knew if Green River had someone on duty, St. George probably would as well. St. George did have an all-night tire service and for just under $300, they swapped out my bad tire and allowed me to continue driving with a decent spare. I knew I needed a drop hitch though, so I took my time getting to the South side of Las Vegas, where I now sit, waiting for Camping World to open. I saw the writing on the wall in the tire heat, but I didn't act on it fast enough.

Get Hitched The Right Way

When Camping World opened, they had just what I needed for an adjustable hitch and it was rated at 10,000 pounds, which was more than I ever planned on towing. It also had two balls- 2 5/16 and 2-inch. The truck leveled out nicely, the trailer towed flawlessly and I didn't have any flat tires as I towed back to Michigan after the SEMA Show, even with extra weight in the trailer from a bunch of luggage that my co-workers didn't want to check on an airplane. The flexibility to switch between different diameter balls was really nice too, because my car trailer and boat trailer both run 2 5/16th, while the boat trailers need two-inch balls. Having one unit that you can lock on the back of your rig (and you should lock it) is really the way to go.

What About Batteries?

If you've come this far, perhaps you're willing to read a little further? Most of my trailers don't have batteries, but some do, including my car trailer, which now has a winch (if you're ordering and a winch is an option, get one). Since that trailer spends almost its entire existence not being used, I always keep that battery connected to an OPTIMA Digital 400 battery charger and maintainer. That might not be everything I know about trailering and towing, but it's a good start. I hope it gave you some helpful tips that will keep you safe, save you time and money!