Two Top Pontiacs Compete In OPTIMA Ultimate Street Car Invitational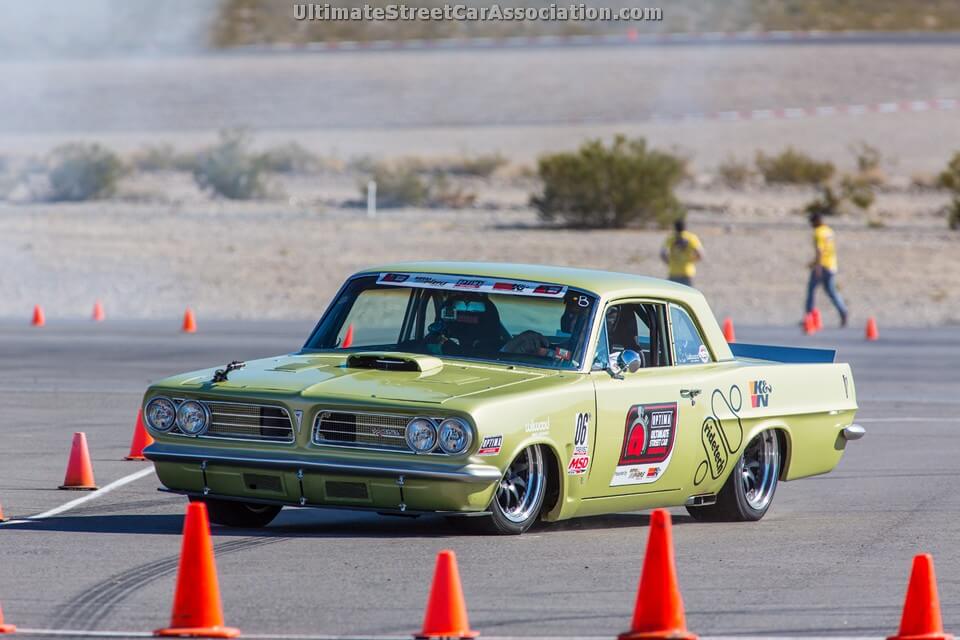 Ultimate Streetcar
Sponsor

OPTIMA Batteries

Location

Las Vegas, NV
The OPTIMA Ultimate Street Car Invitational (OUSCI) is a competition of the best street cars in the United States (and sometimes beyond) that combines five challenges to truly test every aspect of each competitor's performance. Throughout the year, a total of nine qualifying events will take place, each testing both driver skill and vehicle performance. Select enthusiasts are chosen at the end of each event to participate in the OPTIMA Invitational, which will take place in Nevada on November 9th.
The five challenges include: the BFGoodrich Hot Lap Challenge, Ridetech Autocross Challenge, Wilwood Disc Brakes Speed Stop Challenge, the Lingenfelter Performance and Design Challenge, and the Detroit Speed and Engineering Road Rally, which will occur the day before at the close of the SEMA Show. Before participating, all vehicles are required to pass the scrutiny of the Centerforce Tech Inspection.
Two Pontiacs made the cut on the first list of qualifiers for the 2013 edition. Let's take a closer look at the sweet street machines.
Damion Campbell made the cut with his 1963 Pontiac Tempest. According to Damion, the car was purchased last summer as a project car that the previous owner had started, but never completed. Damion had a motor laying around in his shop, so one weekend he threw it in the car with a TK500 transmission, before installing a rear end and driving it around in that state for a month. The motor was tired and Damion really wanted to upgrade, so last Fall, he pulled the car back apart to do it right. He had a 383 motor built for the car to be paired with a new Tremec 5-speed transmission and a 9-inch full-floater Moser rear end. Ride Tech shocks were installed, and he spent the winter doing the body work on his own before having a friend paint it a stock '69 General Motors color - Forest Green.
"I've built and owned a lot of cars over the years," he told us. "This one is by far the best. It is a blast to drive on the street and then race it all weekend."
When asked how it felt to gain entry to the OPTIMA Invitational, he told us, "It was unreal. I still can't believe it. My car is a home-built car, by a no-name builder, and a driver that just started racing this year."
Damion competed in the 2013 Muscle Car of the Year competition for SIM compatriot Popular Hot Rodding Magazine and finished in fourth place behind three professional drivers. He tells us that he's excited to be building a new Pontiac for next year and has plans for it to top his Tempest. We can't wait to see what he pulls out of his hat!

Dennis Prunty will also be joining the competition with a 1981 Pontiac Trans Am. The Trans Am is considered a West Bend Dyno car belonging to Brad Riekkoff, who once-upon-a-time drove the car to high school every day.
According to Brad, "I worked on the car every day, even if it didn't need it, and drove it every day of my sophomore, junior, and senior years sporting a mullet and a big smile!"
After high school, Brad's stepfather bought the car from him when Brad couldn't afford it anymore. It sat for about 16 years until the summer of 2009 when the pair decided to dust off the cobwebs in an attempt to drive the car in the local Fourth of July parade. Well, it didn't go as planned and the motor awoke with an unhappy rod-knock. After missing the parade, Brad managed to convince his stepfather that the car deserved an LS transplant. Luckily, he agreed and it was decided that West Bend Dyno could do whatever they wanted with the car to show what the still-small shop was capable of. Budget was small for the build, so after a few thousand dollars, West Bend Dyno had to foot the remaining bill. Still making a name for itself, West Bend Dyno struggled to find time and money to work on the car, which often was placed on the back burner to allow more time for customer cars and funds. A few years later, plenty of hard work paid off, and the car was back on the road with top-notch performance.
The car was outfitted with a Wegner-built 416 LS3 engine and Wegner front drive, Daily Engineering dry-sump, Lysholm 3.3L twin-screw supercharger, custom stainless exhaust and Stainless Works headers, and an Aeromotive fuel system running on E85. A T56 6-speed transmission with a Quick Time bell housing and Center Force DYAD clutch were installed, as well as a 9-inch rear with Moser axles and Strange center section (3.50 gears). Rounding out the transformation were an Afco radiator and triple-adjustable shocks, Heidt's subframe and 4-link rear suspension, Formula 43 wheels, a custom 10-point roll cage, and Wilwood brakes. Sparco seats, seatbelts, and steering wheel reside in the cockpit, along with an Autometer/Stack gauge package. The car was last painted by Brad's uncle in 1991 and features Carbon Kustoms carbon fiber front inner and outer fenders and doors.

West Bend Dyno hosted a lunch stop for the OPTIMA Face Off and was excited to be entering their Trans Am in the event! Since they would all be running the event, part-time employee and longtime friend, Dennis Prunty, was chosen to drive the car in the competition. Dennis had a few years' experience with a late model race car and was a vital part of making the build happen. On the day of the competition, struggling with rubbing tires and leaking fluids, the guys had only one chance to dial in the brakes and suspension. They did the best they could and took first in autocross and seventh in the road course with over 70 cars competing.

"We were very happy with the car's first time performing and we sure did make my stepdad proud!" Brad told us. "I had tears in my eyes at the end of the event to find out that we were picked to compete in the final race in November."
Brad tells us that they are currently making a few changes to the car to lighten it up a bit before the final event and dial in the suspension and brakes in an effort to put West Bend Dyno's name on the map. You can catch all the past OUSCI TV coverage for free on the OPTIMA Network on Roku.