We're Going Racing in a Big Way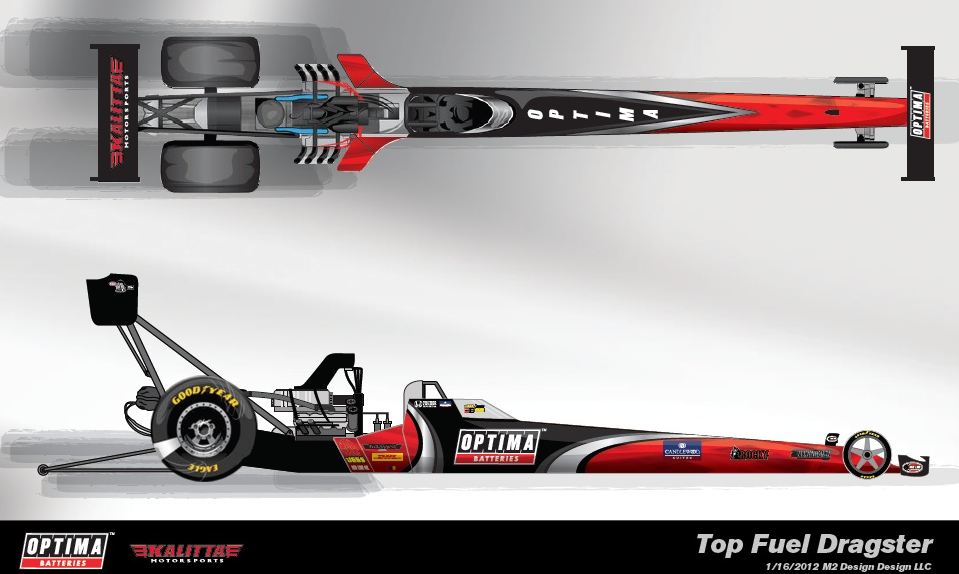 Cars
Sponsor

OPTIMA Batteries

Location

Milwaukee, WI
We're very excited to announce the debut of the OPTIMA Batteries Top Fuel dragster paint scheme, which will make it's first of 16 appearances at national NHRA events this year during the 2012 O'Reilly Autoparts Winternationals, in Pomona, California on February 9th.
Native Australian Dave Grubnic will drive the 8,000-horsepower, 300+ mph OPTIMA Batteries Top Fuel dragster and the Kalitta Motorsports team's tractor-trailer "hauler" will also be adorned with OPTIMA Batteries branding for the entire 2012 season.
OPTIMA Batteries will continue to be an associate sponsor in 2012 on the other Team Kalitta NHRA hot rods, including the DHL Toyota Camry Funny Car driven by Jeff Arend, the Kalitta Air Top Fuel dragster driven by Doug Kalitta, and the Tequila Patrón Toyota Camry Funny Car driven by 2012 Rookie of the Year candidate Alexis DeJoria. OPTIMA Batteries joined the Kalitta Motorsports family in 2009.
The OPTIMA Batteries team has built an extensive and integrated program to support its NHRA presence in conjunction with the growth of the Kalitta team partnership. With plans for support at each national race event, OPTIMA will feature education and entertainment for race fans, a contingency program to reward racers for running OPTIMA batteries and a program to educate and award retail sales associates utilizing the Kalitta Motorsports V.I.P. Hospitality Area. More than 1,200 attendees participated in the OPTIMA retail sales associates training program during the 2011 season.
"We are absolutely thrilled and honored to be representing OPTIMA Batteries as a primary sponsor on our dragster next year," said Grubnic, a 48-year old resident of Bozeman, Montana. "OPTIMA Batteries have proven to be the best high-performance batteries on the market and we're very excited about them becoming the primary sponsor on our high-performance dragster."
"We are proud to take this next step in our partnership with the legendary Kalitta family. Their winning history is a perfect match for Optima Batteries," said Cam Douglass, Director of Product Development and Marketing for OPTIMA Batteries. "Our relationship continues to demonstrate that OPTIMA batteries are proven to perform in the most-demanding applications."
Grubnic, who began driving Top Fuel dragsters in the United States in 1995, earned his first career victory with Kalitta Motorsports in 2005 in Topeka, Kansas, becoming the first racer born outside North America to win an NHRA Top Fuel event. See more dragracing from the world of OPTIMA here.