We Love the Classic Trucks!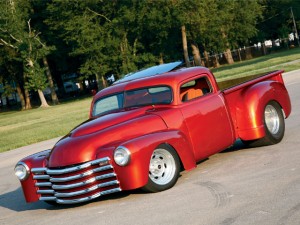 Trucks
Sponsor

OPTIMA Batteries

Location

Milwaukee, WI
Go to any car show in the country and you're almost guaranteed to spot a Camaro, Mustang, or Corvette somewhere in the parking lot. We love those cars, in fact, our employees even own some of them. We also love the more unusual classics, like Robert Henderson's 1949 Chevrolet 3100 pickup truck.
While Henderson may see other bowtie pickups at car shows, he is almost guaranteed to have the only '49 Chevy 3100. Even if he does come across another, Robert's truck is so unique, it will certainly stand out. Chopped and channeled, Henderson's truck is sure to turn heads wherever it goes and with OPTIMA power on tap, he has confidence in knowing it'll fire up when its time to go home.
If you'd like to see more awesome trucks in the world of OPTIMA batteries, click here.