What is Time Attack?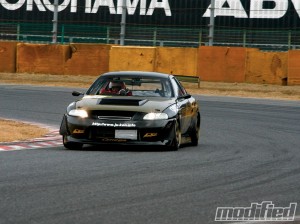 Cars
Sponsor

OPTIMA Batteries

Location

Milwaukee, WI
If you hang around drag strips or dirt tracks, you may have never heard of Time Attack racing, but the concept is a familiar one. Time Attack is also known as "Time Trial" racing, where a car runs a course by itself for time, typically with one warm-up lap, one timed lap and one cool-down lap.
Time Attack's current popularity can be traced back to Japan, but it is growing in popularity stateside. Although Nissans are one of the most popular nameplates in Time Attack, this 1992 Toyota Soarer is a somewhat unique example. A close inspection will reveal a car that has all the appearances of a purpose-built race car, including a roll cage, 720-horsepower engine, a gutted interior and a racing seat with a five-point harness. This particular car just runs for time on road courses without going wheel to wheel with other competitors (it also runs an OPTIMA REDTOP).
If you'd like to read more about this car, you'll have to do some digging, probably on eBay or at swap meets to find the full feature, which appeared in the August 2010 issue of Modified magazine.