What You Really Need to Know about Competing in the Search for the Ultimate Street Car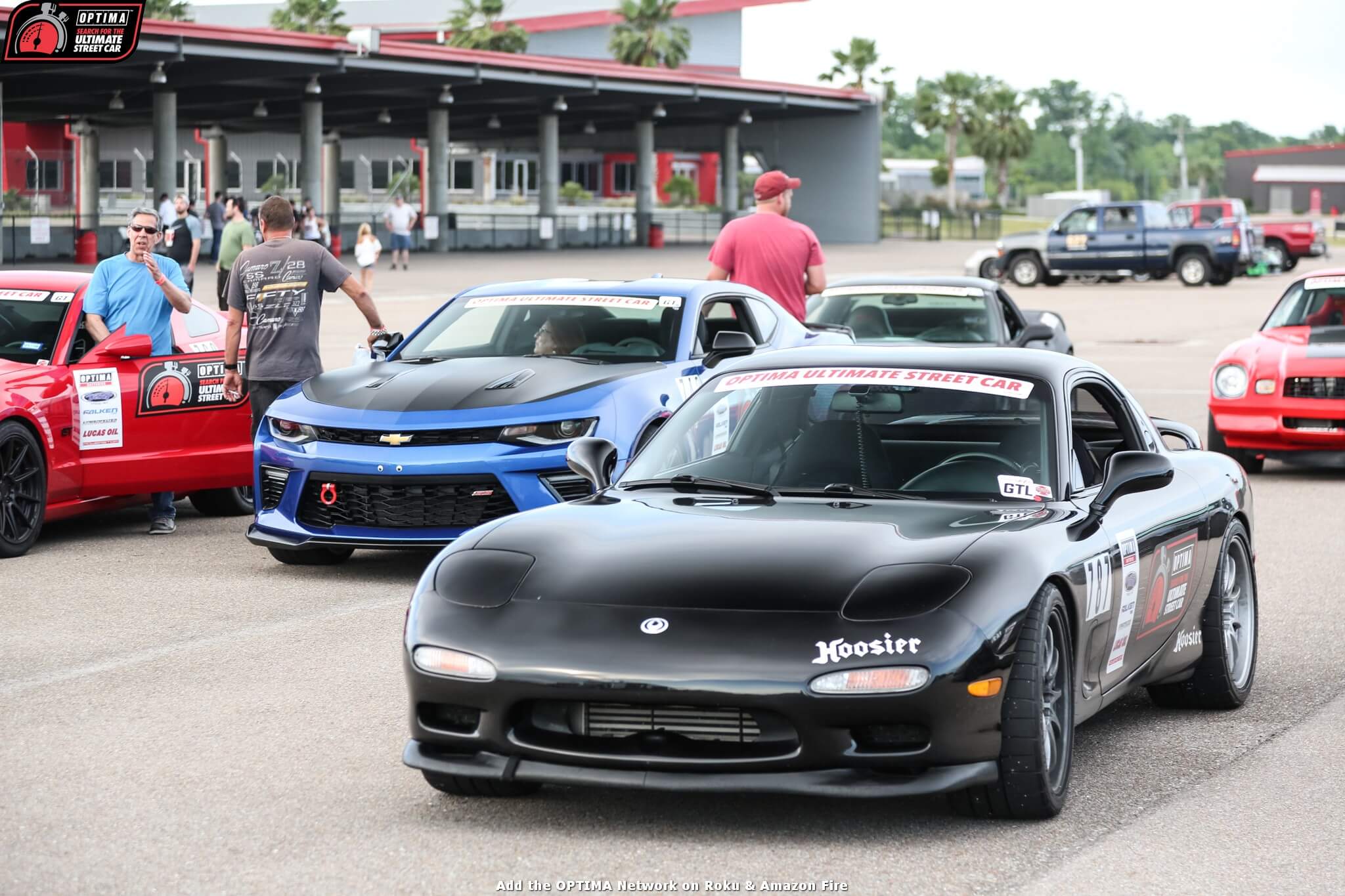 Ultimate Streetcar
Sponsor

OPTIMA Batteries

Location

Milwaukee, WI
In just it's fourth year of competition, OPTIMA's Search for the Ultimate Street Car series has exploded into a national phenomenon. It's a series where anything from a 1930s sedan to a 2017 Porsche can compete on world-class racetracks under a set of rules that doesn't overwhelm anyone with it's complexity. However, there are always nuances in any series that may not be fully-understood until someone actually goes out and does it, so we'd like to offer some assistance that might improve the learning curve for folks thinking about giving this series a try.
Safety is our Top Priority
We want everyone who runs in our series to have a great time, learn something about themselves and their cars and enjoy friendly competition, but everyone's safety is our top priority. All vehicles will be thoroughly inspected prior to being allowed to compete in our series. However, competitors should also take the time to thoroughly inspect their vehicles before arriving at our event or have a qualified professional look it over for them. Is your vehicle leaking any fluids? Are your brake pads, rotors, fluids, etc... in the best possible condition they can be? Are your tires ready for a full weekend of aggressive driving at a racetrack? Are you physically ready for a full weekend of aggressive driving at a racetrack? You will be tested on your ability to get out of your vehicle in a timely manner before we allow you to compete.
At a minimum, you will also be required to have a newer SA-certified helmet (no motorcycle helmets), a HANS-style or SFI-certified neck collar, a car with at least three-point seatbelts, an SFI 3.2A/1 rated single-layer firesuit, fire-retardant or leather gloves and full coverage leather shoes. Your car will also need tow hooks or straps accessible from the front and rear.
We Have Rules
It might seem obvious, but we're always amazed to talk with folks who have been running in this series for several years, who have never taken the time to read the
rules of the series
. The rules aren't overly-complicated and some folks in our series just run it for fun, but the rules are updated on an annual basis, which would make it a good idea to read them over at least once a year. We even go through the trouble of highlighting changes and really important stuff, if you just can't spare a few minutes to read through everything. Reading the rules actually answers a lot of the most-common questions people end up asking, like what is the decibel limit for cars competing in the series and how many points will someone lose in the Lingenfelter Design & Engineering Challenge if their horn doesn't work? (four)
We Have a Podcast
If you're not much for reading,
we also have a podcast
, where we do nothing but talk about this series, the cars in it, the people who organize it, etc... The podcasts can be especially useful when they discuss any changes that might be implemented from one season to the next and how those might impact competitors, vehicles, classes, etc... Even if you've worked your way through the rules and listened to all the podcasts and you still have questions, the series staff is very accessible and willing to answer questions through the website,
Facebook page
, email, etc...
It Really is a Series for Streetcars
People may look at some of the top cars in our series from a distance or a
few video clips
and jump to a lot of conclusions about the cars and whether they're really legitimate street cars or just race cars with license plates. All of the cars in our series are required to complete the Road Rally on public roads (and do so without having to remove their driver's license from a sealed envelope). That means a car must be licensed and insured to drive on public roads.
Some may look at some of the trailers in our paddock area and question how often these cars get driven on public roads. Many of our competitors tow to our events, because they work a regular job during the week and if their car breaks over the weekend, they still need to get to work on Monday morning. Many also travel hundreds and even thousands of miles to attend our events, so having the safety net afforded by a trailer and tow vehicle can be a job-saver.
Over the years, the series has also gone to great lengths to make sure the most-competitive vehicles really are legitimate street cars. The result of these efforts is that someone can come out to one of our events with a gutted, street-legal race car, but they probably won't be very competitive for a win or championship. The main reason for this, is because we have a lot of very competitive vehicles in each class already and someone who shows up in a car that has been gutted of all non-essential racing items (radio, horn, HVAC, wipers, carpeting, headliners, door panels, etc...) will lose so many points in the objective (non-judged) portion of the Lingenfelter Design & Engineering Challenge, that even if they finish first overall in every other segment, they still probably won't win their class.
As a result, we would caution anyone who currently runs a car in another competitive series, like NASA or SCCA, that even if they are a great driver, simply adding license plates and a set of 200-treadwear street tires onto their racecar may not make them competitive in our series. While the Lingenfelter Design & Engineering Challenge may only offer 100 of 500 points available at an event, it is a big enough part of the overall score that it can make or break a car from a competitive standpoint (which is equally true for all the other segments). Unlike any other racing series out there, all of the cars that qualify for our final event of the year are put on display at the SEMA Show in Las Vegas, so it is important that entries are built to a very high standard.
We're Searching for Ultimate Street Cars, not Ultimate Street Car Drivers
OPTIMA's Search for the Ultimate Street Car series is for amateur drivers, with professional drivers being defined as someone who, "has competed at a high level of racing or time trial competition, for compensation that is a significant or primary source of income." That's not to suggest that the winner of the series or the OPTIMA Ultimate Street Car Invitational won't also be the ultimate street car driver, but that driving talent alone will not be the determining factor in the outcome of our series or finale.
Just as a very talented driver in a race car with license plates may not be able to win in our series, a very talented driver in a bone-stock or nearly-stock street car may not be able to win in our series either. Our series makes no effort to hide the fact that it is interested in promoting the automotive aftermarket and the companies and enthusiasts who support it. If we wanted to run a spec or stock series, we'd do that, but frankly, we think there are plenty of great options already for folks interested in that type of competition. We want to see and showcase the creativity and ingenuity that exists in the automotive aftermarket and over the last three and a half years of running the series, we've seen some incredible examples.
This Series Isn't For Everyone
We've already touched on the fact that professional drivers are not allowed in our series. While we like to be inviting and welcoming to as many other people as we can, we acknowledge and understand that our series won't necessarily be a good fit for everyone. On the flip side of the professional driver is the absolute beginner, who has never driven any car in an aggressive manner on a closed course. If you have a car capable of hitting 130 mph on a closed course, but the thought of doing that in your car at Road America might be more than you can safely handle, we might suggest working your way up to running in our events at a safe pace. There are lots of great driving schools and HPDEs that can offer excellent instruction and might help better prepare you to run in our series. Other competitors are allowed to ride along with you in your car at our events to help less-experienced drivers learn their way around the track and many competitors in our series had their first road course experiences at our events. However, if you're not comfortable, we'd prefer you know and acknowledge your limitations before you get behind the wheel at our events.
Running these events costs money for both organizers and participants from track rental fees to event insurance, hotel, food and other consumable items like fuel, brake pads, oil and tires. There is also a chance there may be additional unanticipated expenses relating to mechanical or other issues that may arise. As a result, if you can't afford to fix things on your car that might break at these events, please don't take the chance of breaking them at our events until you can afford to fix them.
The people who run in our series already represent the one-percenters- the very small group of people who own performance cars that end up being driven at high speeds on closed courses. As a result, just finishing one of our events automatically places someone in a very elite group of enthusiasts. While we also like to help people enjoy friendly competition, if you need to win at everything you do or have a fragile ego, our series might not be a good fit. Some of our classes have more than 30 vehicles in them at a single event and some of the driver/car combinations have been competing in our series for a long time and are very good.
We only acknowledge one car as being a class winner at qualifying events and only one "Ultimate Street Car" at the end of the year. There are plenty of cool perks, swag, media and sponsorship opportunities along the way, but if you need a participation trophy or want to run in a series that has a class for every car and everyone finishes on the podium, our series will probably disappoint you. We like our events to be friendly environments that people look forward to attending and our goal is perfection in everything we do. Even if that isn't attainable, we welcome feedback from participants on how we can make things even better and we've actually incorporated many of their ideas into our series over the years. We hope you can join us and look forward to seeing you soon!
Until we do see you, be sure to see more of us and our series for free on
the OPTIMA Network on Roku
.