Which OUSCI Qualifying Events Should You Sign Up For?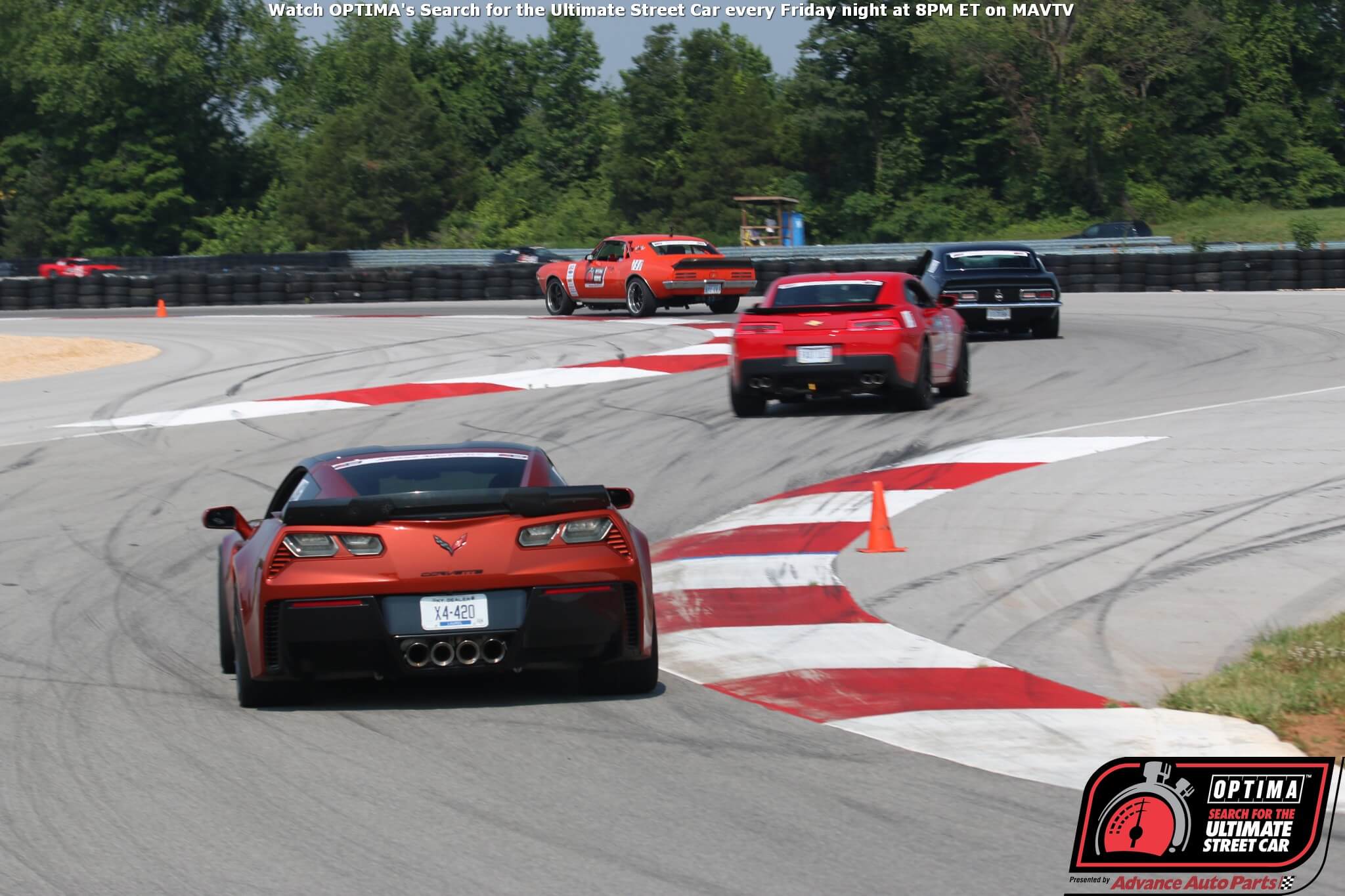 Ultimate Streetcar
Sponsor

OPTIMA Batteries

Location

Nationwide
OPTIMA's 2017 Search for the Ultimate Street Car begins where it ends- Las Vegas. There are seven events in the qualifying series in 2017, followed by a week of being on display at the SEMA Show in Las Vegas, followed by the OPTIMA Ultimate Street Car Invitational (OUSCI) at Las Vegas Motor Speedway. It is at that iconic track that the series begins on March 17th. With seven qualifying events on the schedule in 2017, competitors looking to earn an invitation to SEMA and the OUSCI need to carefully evaluate their options and opportunities to punch their ticket to Sin City.

The track or tracks competitors choose can be influenced by where they live, what type of car they have, how many resources they have and how much room they have in their calendar, among many other factors. The best three finishes (best two in 2022+) will count toward a competitor's season-long points total, with opportunities to win their way in at each qualifying event along the way. The more events someone runs, the better chance they'll have to qualify, but what if they can only make three events or in some cases, only have one shot? We'll take a look at each track and offer some insight that may be valuable to both veterans and series rookies.

Las Vegas Motor Speedway March 17-19th

The first event of the season is often one of the best events to run in terms of earning season-long points and qualifying for the OUSCI. The first event of the year traditionally does not sell out, so there are more points available, even if you finish last. For instance, the GTS class is currently the largest class for Vegas with 10 cars registered. The last-place GTS car that finished all segments at the season-opener in 2016 earned 343 points for their 10th-place finish in class. The last-place GTS car that finished all their segments at NCM Motorsports earned only 329 points for their 16th-place finish. In a series where championships have been decided by just four points, gaining 14 points can be the difference between making the trip to Vegas and watching it at home on TV.

Las Vegas also offers a unique opportunity to preview the venue that will be used for the OUSCI. While the Detroit Speed Autocross and PowerStop Speed Stop Challenge may see variations in course layouts, the Falken Tire Road Course time trial is pretty much the course everyone will run at the OUSCI (a chicane was added for the 2016 OUSCI, that was not run at the qualifying event). Highly-competitive folks look for any opportunities they can find to gain more experience on this track and the qualifying event is the perfect opportunity.

If you live West of the Mississippi River, there are only three qualifying events in your region. Even though the start of the qualifying season is a little bit later in 2017, lots of folks still won't have their cars put together and dialed in to make the first event. The last West Coast qualifier takes place on September 1-3rd at Auto Club Speedway, so if someone misses Las Vegas and doesn't qualify at Pike's Peak or Fontana, they're now faced with the prospect of heading East to run in the final qualifier of the year at Road America on October 7-9th, only to turn right back around and head to Vegas for SEMA just a few weeks later. As if that weren't daunting enough, it might be snowing at Road America on October 7th. If you live out West and want to get into SEMA and the OUSCI, you don't want to miss the Las Vegas opener. The event only has 36 entries as of January 25th and the expert to novice ratio is currently 12/6, so there could be some great points opportunities here.

NOLA Motorsports Park April 21-23rd

After Las Vegas, the series heads to New Orleans in April. This is the second year the series has run at NOLA Motorsports Park and the only time the series will run South of Bowling Green, Kentucky. If someone lives in the Southern United States, this is a must-attend event, because everything else will be a major road trip. This event is likely to sell out, as many of the series competitors live in the central United States. As they look at the schedule, NOLA, NCM and Road America look to be the three closest venues for many of them.

As the second event of the year, it also gives folks a good idea of where they might shape up and which events they might need to run later in the year. If they have a good showing, they may stand pat with their existing plans. If they feel like they may need a better performance, they'll start eyeing up New Jersey Motorsports Park (NJMP) and Pike's Peak International Raceway (PPIR). However, that luxury of future planning diminishes with each subsequent event. Even though NOLA is the first qualifier East of the Mississippi, it is also means there are only three other qualifiers remaining East of the Mississippi. If you think you'll need to run three qualifying events and you wait too long and find a sold-out field at NOLA, what is your back-up plan? The event already has 49 entries with an expert to novice ratio of 17/11.

NCM Motorsports Park June 2-4th

The morning after registration opened, we were already announcing less than ten spots remained for NCM Motorsports Park, which is a favorite track for many of the series regulars. Not long after that announcement was made, the rest were all taken. At this point, the best you might be able to do is e-mail Series Registrar, Adam Hanna and request to be added to the waitlist. NCM proved to be one of the most-competitive stops in the series and while points were available for the top competitors, they were much harder to come by for those not standing on the podium by the end of the weekend.

Still, the central location of NCM Motorsports Park makes it one of the easiest drives for a large segment of the series. With 26 experts already signed up to run, you'll need to bring your A-game if you want to win your way in at this event. However, there are also 15 novices registered and ten more competitors that have not been assigned run groups, most of those competitors being rookies. This could be the first time many of those folks have ever run in a timed event, offering the potential for points to be available for more-seasoned competitors. However, there could also be ringers lurking in that unassigned group like Nathan Popp, who may have never competed in the series before but is likely to be faster than half the field, just based on genetics. If you're East of the Mississippi and you miss out on registering for this event, you're now probably looking at a travel triangle involving some combination of Road America, NOLA, NJMP or PPIR.

Pikes Peak International Raceway July 7-9th

July takes the series to beautiful Colorado and Pike's Peak International Raceway. When this track first appeared on the schedule, there were more than a few raised eyebrows, as competitors contemplated making a serious roadtrip from just about everywhere to compete in this event. The first year proved to be a points goldmine and while the secret got out in 2016, it was still one of only a handful of events to not sell out, although it came very close. With just seven qualifying events on the schedule and Bob Boileau's reputation for being one of the best hosts in the series, we expect this event will sell out in 2017, even though there are just 34 entries as of January 25th.

The expert to novice ratio is currently 9 to 7, but we expect both of those numbers to rise as entries come in. PPIR represents the third-closest event to the Los Angeles area, so those who don't punch their tickets at Las Vegas will likely add this event to their schedule shortly thereafter. If you're on the fence about signing up for Pike's Peak, don't wait too long or you could be facing an even longer haul to get to a second or third qualifying event, especially if you're located anywhere from the plains to the West Coast.

New Jersey Motorsports Park August 25-27th

There was a lot working against NJMP when it was first announced in 2016. Geographically, it was the furthest Northeast the series had ever run and well outside of central states where the majority of the competitors reside. It also landed on the same weekend as another popular and well-established pro-touring event. Even as the days drew near to the event, rain was forecast and eventually showed up. Still, in spite of all the obstacles, NJMP saw more than 50 registrants. Those who made the trip benefited greatly from a points perspective, as NJMP was one of only a few events to not sell out in 2016 and one of the smallest fields of the season.

The track is now familiar to those who ran in 2016 and many are among the more than two dozen entries that have registered so far. It was also moved on the schedule to eliminate the conflict with the other event. Many East Coast competitors will see this as the only event East of Bowling Green and will likely sign up sooner, rather than later. The expert to novice ratio at this point is just 8/5, but we're seven months out. It's also the third to last qualifier of the year and if someone intends to qualify based on season-long points, they'll likely need to run in three events to do it. If they haven't started their season by August and they hit the last three events, it will literally take them from coast to coast and to one of the Northern-most states. If you're still on the fence and you have a car that excels on smaller, tighter courses, last year's Detroit Speed Autocross was one of the tighter, more technical courses in the series at this venue.

Auto Club Speedway September 1-3rd

It's not a question of if this event will sell out, but when. The qualifier at Auto Club Speedway has routinely sold out, primarily because it was the last qualifying event of the year. That changes for 2017, but for West Coast folks, it is still essentially the last qualifying event of the year, because the final qualifier in 2017 at Road America is more than 2,000 miles away. It is also a critical third event for those West of the Mississippi looking to get maximum points on the season. Registration is light at this point (more than seven months out) and the expert to novice ratio is 4/5, but there are plenty of opportunities to be had at this event.

With five events in the books, many of the top contenders will have already punched their ticket to Las Vegas. One more event East of the Mississippi will also limit the number of competitors making the long haul West. The bottom line is if you're out West, you'll want to lock this event in on your schedule.

Road America October 6-8th

Road America is the longest-tenured OUSCI qualifying event in the series, extending several years beyond the series origin in 2014. It was a popular event before the creation of the series and interest has only increased over the years. Major changes are on the horizon for this event in 2017. It marks the first time in series history that the regular season finale ends in Elkhart Lake and the first time in several years that the event will not be run on the same weekend as the NASCAR race. The early October date also adds another unknown element to the equation.

The fall colors will be at their peak on this weekend, but the temperature could be anywhere from scorching hot to below freezing. The record high temperature at Road America on October 7th was 87 degrees in 2007, while the record low was 24 degrees in 2001. That's quite a span and could even bring snow (which wouldn't be a first for the series), but the average temperature during the day should be somewhere in the low-60s. With 60 competitors already signed up, this field is on pace to be the next to sell out and the expert to novice ratio of 18/12 suggests the competition will be very tough. The full road course will also keep everyone on their toes. If you haven't crossed this track off your bucket list, sign up while space remains!

Have you made your choice yet or would you like to do a little more research? You can watch past epsiodes of OPTIMA's Search for the Ultimate Street Car on-demand for free on the OPTIMA Network on Roku.