Who Won the 2023 Pikes Peak Hill Climb?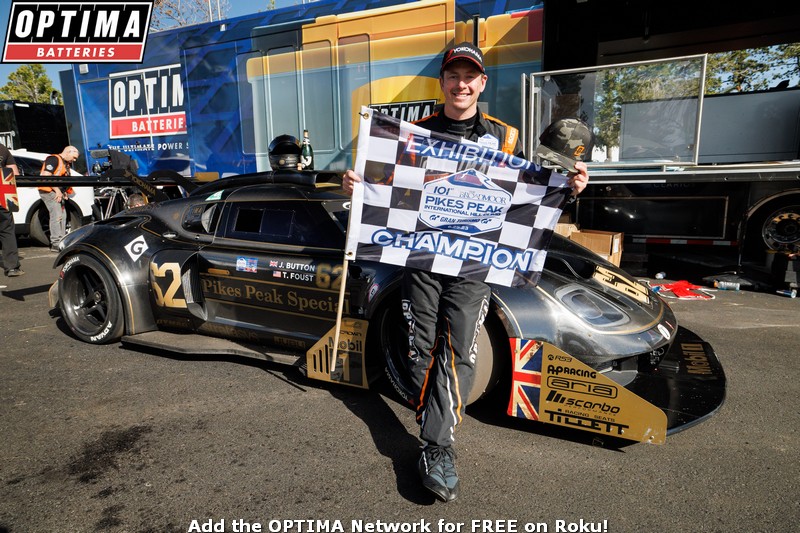 Events
Sponsor

OPTIMA Batteries

Location

Pikes Peak, CO
Tanner Foust added another feather to his racing cap, when he won the Exhibition Class at the 2023 Broadmoor Pikes Peak International Hill Climb, brought to all of us by Gran Turismo, in his OPTIMA Batteries-powered Radford Type 62-2 Pikes Peak Edition race car. So what is a "Radford" and why can't you drive down to your local Radford dealer and buy a street version of this car?

Well, Radford goes about things a little bit differently, following a motto of "Design. Build. Drive." The entire process is supervised by Ant Anstead, who is a well-known car builder in his own right, as well as a TV personality, from shows like Wheeler Dealers and World's Greatest Cars. Each car produced by Radford is meticulously-tuned by 2009 Formula 1 World Champion, Jenson Button, so that process alone precludes these cars from becoming a mass-produced affair.

So what is under the hood..er...trunk...bonnet? A JUBU Performance-built supercharged 3.5-liter V6, producing 710 horsepower, sending the Radford from 0 to 60 in just 2.2 seconds, with a top speed of 160 mph. They could probably gear it for far more speed than that, but that's just not needed on the mountain, where downforce, braking and acceleration are all at a premium

The Radford weighs in at a very flyweight of less than 1,900 pounds, thanks to a composite monocoque chassis, with a multitude of other carbon fiber and composite components (the driver's seat weighs in at just over eight pounds). In addition to Anstead & Button's personal expertise, the car is littered with CAD-designed and 3D-printed one-off parts (as well as a lightweight OPTIMA ORANGETOP battery).

Foust knows the fast way to the top and has won at Pikes Peak before, so we're happy to see him reach the top again in 2023 and congratulate him and everyone at Radford on a race well-run! Check out a massive photo gallery from Foust's Pikes Peak run below and see a gallery of overall winner, Robin Shute (who also ran an OPTIMA battery) here.