William Horan's 2010 Audi R8 | 2013 OUSCI Preview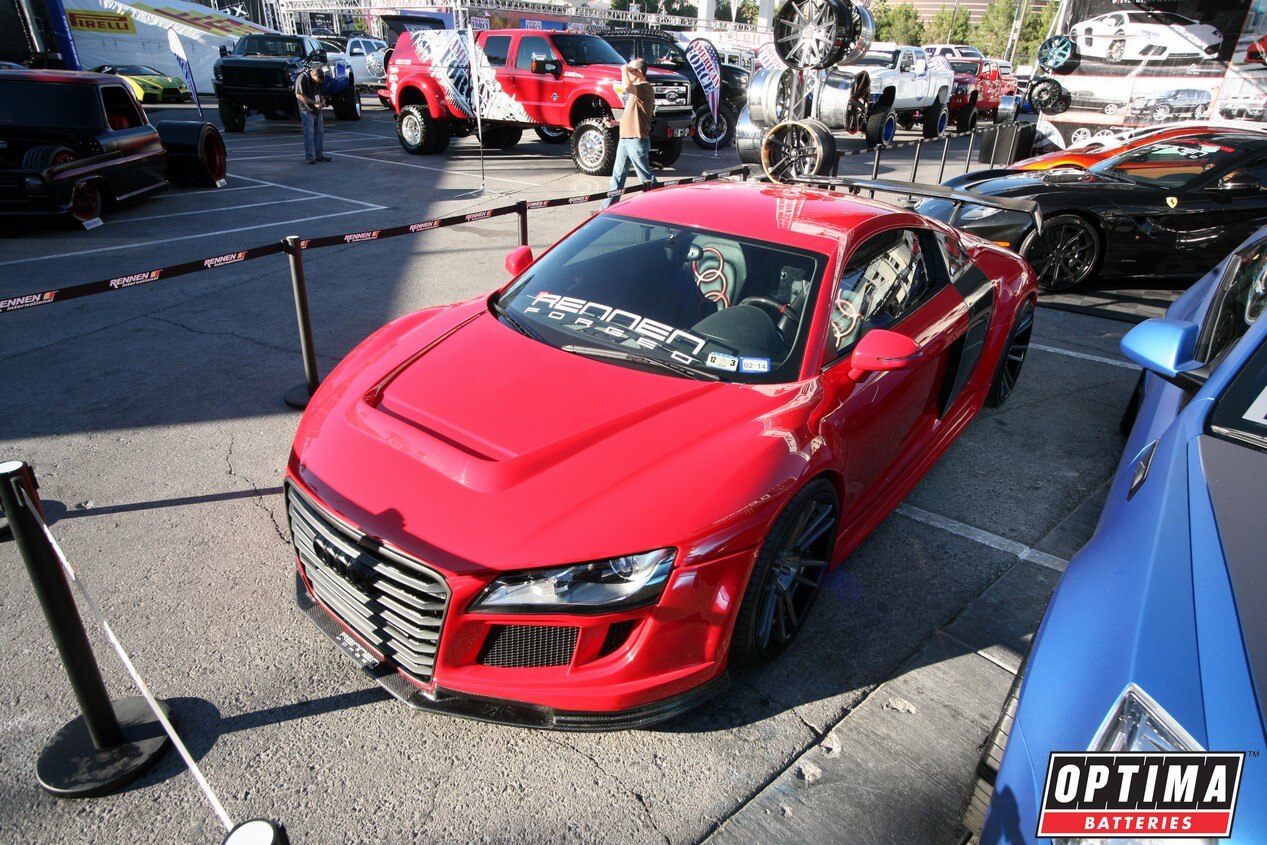 Ultimate Streetcar
Sponsor

OPTIMA Batteries

Location

Pahrump, NV
The vehicles invited to the OPTIMA Ultimate Street Car Invitational (OUSCI), presented by Royal Purple and K&N Filters, have origins and stories that are as diverse as the cars themselves. If there is a "typical" car story behind any of the OUSCI invitees, William Horan's 2010 Audi R8 definitely falls outside of it. Although Horan grew up working on cars and specializing in car audio, he has only owned this Audi for the last eight months, during which time it has been totally transformed.
William picked up the Audi at an auction, opting for the lighter V8 model, instead of the V10 and immediately had plans to change things up. He was always impressed with the handling and power of the Audis, but growing up in the Fast Furious generation, he wanted to spice up the design of the car. "I'm an aggressive person, so I wanted an aggressive look that was still sleek and agile," said Horan.
William basically ripped the car apart the week he bought it and went to work. Although Horan owns Recycle Kings, a large recycling chain in South Texas, his passion has always been custom car work, including audio installations. At the age of 20, Horan started a company that designed body kits and he went to work on anything he could get his hands on- Hondas, Nissans, Toyotas, etc...
He eventually sold the company, but never lost his passion for the work and his vision has always been to set the trends and out-do his previous efforts with each new creation. The casual observer at SEMA might glance at Horan's R8 and think of it as just an Audi with a body kit, but that would be like looking at Mark Stielow's Mayhem Camaro and saying it's just another first gen with an LS-swap. There is simply far more that has gone into Horan's build than someone can pick up with a quick look.
The widebody conversion Horan created has added a full 12 inches to the width of the car, but make no mistake, it was not as simple as just adding a widebody kit. Every body panel was re-done by Five Points Customs and many parts have been replaced with carbon fiber, including the hood, front and rear diffusers, spoiler and side blades. An RS8 front grille conversion was also executed at the same time, all with the assistance of Sarona Designs. An integrated Escort radar system was also installed in the bumpers.
This R8 came from the factory in silver, but William had it re-sprayed in brilliant red from PPG and while many OUSCI competitors may simply bolt in a stock or close-to-stock interior with standard racing seats, Horan went to the extreme with his R8. The seats now have custom-stiched Audi rings and a custom (William wouldn't have it any other way) audio system from Custom Sounds, featuring lightweight JL Audio components and matching red LED lighting, both inside and out. He also added a custom carbon fiber wheel from DCTM, to match the upgrades made outside.
Engine modifications include a Hennessey exhaust system, K&N filter upgrade and and an ECU upgrade, with a custom turbo kit currently under construction. The rolling stock on Horan's ride are 20-inch Rennen Forged S6 wheels with a brush tint and gloss black lip, wrapped in Hankook tires. William didn't give us much background on his prior driving experience, so that remains a question mark for the OUSCI. However, if the judges in the Lingenfelter Performance Design & Engineering Challenge understand the degree to which Horan has modified his Audi, he is sure to be a top contender in that event.

Add the OPTIMA Network on Roku to see all the past TV coverage from this event and see how William's weekend went.