Worsham Joins OPTIMA-Sponsored Kalitta Motorsports as Tequila Patron Funny Car Crew Chief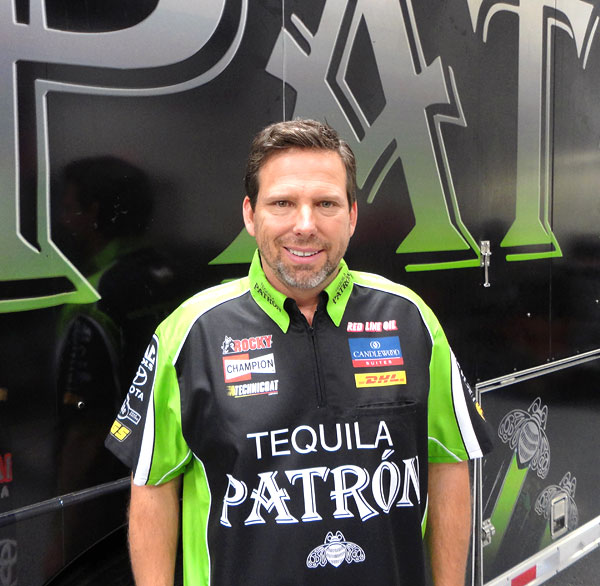 Cars
Sponsor

OPTIMA Batteries

Location

Villa Park, CA
Kalitta Motorsports, one of the most-successful race teams in the history of NHRA (National Hot Rod Association) Drag Racing, announced today that former Funny Car and Top Fuel dragster driver Del Worsham has joined the team as the crew chief for Alexis DeJoria and the Tequila Patrón Toyota Camry Funny Car team.
Having completed his career-long goal of winning an NHRA Full Throttle Drag Racing Series points championship this past season as the driver of the Al-Anabi Top Fuel dragster, Worsham, a 41-year old resident of Villa Park, Calif., decided to move on to a new challenge in his racing career after 21 years behind the wheel.
"I started working on Funny Cars before I was 10 years old," Worsham said. "My dad (Chuck) and I tuned our family-owned Funny Car from 1990 until I joined the Al-Anabi team in 2009. Dad and I won 22 races together, so hopefully I can draw from that experience and knowledge in this next phase of my career. See more drag racing content here!
"I'm really excited to be working with Alexis. She's an extraordinary talent with a great desire to win. When she got her license to drive nitro cars, she did it in my car and I could tell right away that she was going to be a winner in the nitro Funny Car class. Technically she's a rookie, but she already drives likes she's has years of experience with these cars and a tremendous amount of respect for the car and its power, and that's very important.
"I wouldn't take this position with Kalitta Motorsports and the Tequila Patrón Funny Car team if I didn't think it's going to be a winning combination. I think Alexis is going to be a winner and ultimately an NHRA champion someday. I'm also really looking forward to working with Connie (Kalitta, team owner and drag racing legend). Connie knows more about nitro motors than anyone on the planet and getting to work with him is truly an honor."
Kalitta, too, is excited about the opportunity to work with Worsham. "Del's a racer's racer. He's just one of those rare guys with a complete knowledge of all things having to do with a race car. I'm sure he's going to be a great addition to the Patrón team and our entire Kalitta Motorsports operation."
DeJoria, who competed in four NHRA national events in the fall of 2011 for Kalitta Motorsports after five successful years of driving in the Top Alcohol Funny Car class, will vie for the 2012 NHRA Rookie of the Year Award driving the 8,000-horesepower, 300+ mph Tequila Patrón Toyota Camry Funny Car in all 23 events of the 2012 NHRA Full Throttle Drag Racing Series. She is thrilled to have Worsham calling the shots on her nitro-fueled hot rod.
"Del has been my mentor since I started driving a nitro car," DeJoria, a 34-year old resident of Venice, Calif., said. "He not only knows how to tune them, but he obviously knows how to drive them and that kind of experience is immeasurable. With the addition of Del as crew chief to our Tequila Patrón team, hopefully we've put together all the right pieces to have a very strong team, and I can learn so much from him from his two decades of driving experience."
OPTIMA Batteries is proud to be an associate sponsor of the Tequiola Patrón team and we wish everyone at Kalitta Motorsports a safe and successful 2012 racing season. We can't wait!