Wraith Mustang at the 2009 OPTIMA Ultimate Street Car Invitational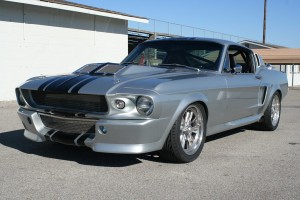 Ultimate Streetcar
Sponsor

OPTIMA Batteries

Location

Pahrump, NV
Some of the world's best performance cars find their way to the SEMA show and that is why OPTIMA runs their Ultimate Street Car Invitational event immediately following the show. We want to give these amazing street machines the opportunity to show what they can do in high-performance driving situations, in front of a national audience.
While many invited car owners take a pass and some builders will claim their cars are only "SEMA-ready" (meaning just put together enough to roll it in and out of the show), others will take the challenge head-on. Wraith Motorsports was one such builder and they entered their amazing Wraith Mustang in the 2009 OPTIMA Ultimate Street Car Invitational.
A Shelby 427 aluminum FE block, bored and stroked to 482 cubic-inches tells you how serious this car is about performance. The pricetag on this machine is a cool $239,000, but that didn't stop them from letting it all hang out at our event. Check out this video from the autocross course. You can watch more past episodes of the OPTIMA Ultimate Street Car Invitational free, by adding the OPTIMA Network on Roku.