Zeke Peterson's 2003 VW Beetle | 2011 OUSCI Preview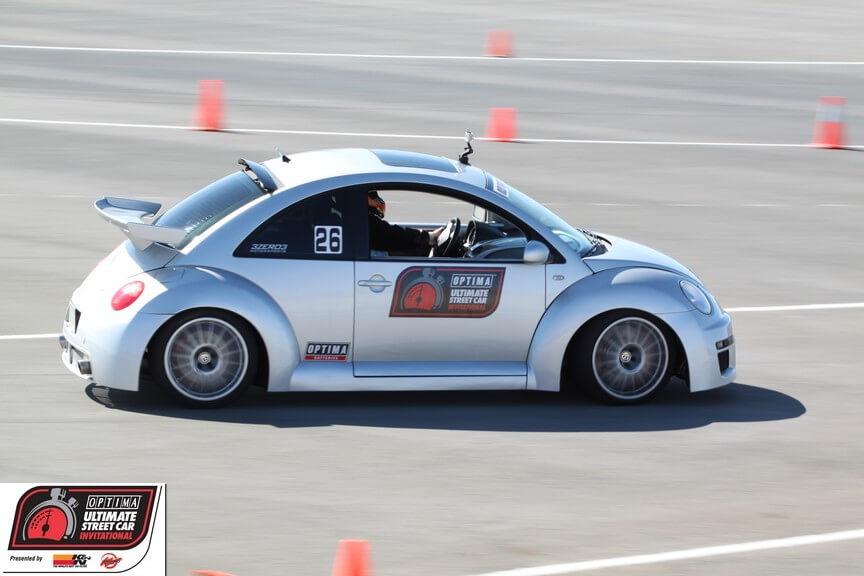 Ultimate Streetcar
Sponsor

OPTIMA Batteries

Location

Las Vegas, NV
Yes, you did read our entry list correctly. Zeke Peterson will be bringing a 2003 Volkswagen Beetle to the OPTIMA Ultimate Street Car Invitational, presented by Wilwood Brakes & K&N Filters. However, this is no ordinary VW. After all, this isn't the OPTIMA Average Street Car Invitational.
Peterson and his brother, Zane, are VW fanatics, as evidenced by the collection they have stashed in rural Nebraska, including a black, 2002 Beetle they run in the 105 mph class at the Sandhills Open Road Challenge. That VW caught the eye of our Race Directors, but when they asked about it for entry into the OUSCI, the Peterson brothers indicated the silver '03 Beetle, which is now maintained by 3zero3 Motorsports, was a more-appropriate selection.
Zeke initially tried to import a Beetle Cup car from Europe,, but when that didn't pan out, he turned to an HPA-built Rsi. A new Beetle with a 2.5 engine will produce about 170 horsepower, while the turbo 2.0 will pump out 200 horsepower. HPA swapped out the stock engine, opting instead for the 240-horsepower, 3.2-liter VR6. With that as the ending point, the world would offer up a polite courtesy clap and ask if the factory-mounted flower cup was replaced with a lightweight, carbon-fiber version.
However, HPA goes well beyond the VR6's 240-horsepower output with their twin turbo package, which, with it's twin intercoolers boosts output to 550 horsepower and 608 lb.-ft. of torque. That ladies and gentlemen, is a game-changer. Zeke Peterson's Beetle may not be the car to beat in the 2011 OUSCI, but it is definitely the car no one wants beating them.
It is not that the boosted Beetle, with it's all-wheel-drive configuration and massive, Porsche Cayenne six-piston calipers and Audi RS4 rotors (14.1 inches in the front 12.1 inches in the rear) isn't a worthy adversary, because it certainly is a potent combination. It is because when the dust settle on the 2011 OUSCI and people look at the final standings, they will invariably see that a Beetle finished higher than a whole bunch of cars no one would think would have any trouble handling such a car.
They won't know how heavily-modified the suspension is or that it can run the quarter mile in 11.7 seconds at nearly 120 mph, they'll just see the name Beetle and wonder how a car with a dashboard-mounted flower holder bested so many other cars they held in such high esteem.
We saw the same thing happen last year, with Shane Therrien's Chevy Cobalt SS. All the competitors knew Therrien's 300-horsepower Cobalt was heavily-modified, but that information never seems to translate to the final results. All people see there is a Chevy Cobalt beating 18 other cars on the road course.
While Peterson lacks the driving resume of some of his competitors, he is no stranger to high-performance driving. The Beetle's ability to go from 60-0 in just 105 feet should prove to be an advantage in the Wilwood Disc Brakes Speed Stop Challenge, but will Zeke get tripped up by the format or course layout, as other first-timers have in past years? Likewise, the Beetle should be formidable on the autocross, but will Zeke be smooth enough to wring the most out of his VW?
One thing is for sure- you won't want to miss this year's OUSCI. Add the OPTIMA Network on Roku and watch all the past TV coverage of this iconic event.