Inaugural "Ride Shotgun" Program Winners Announced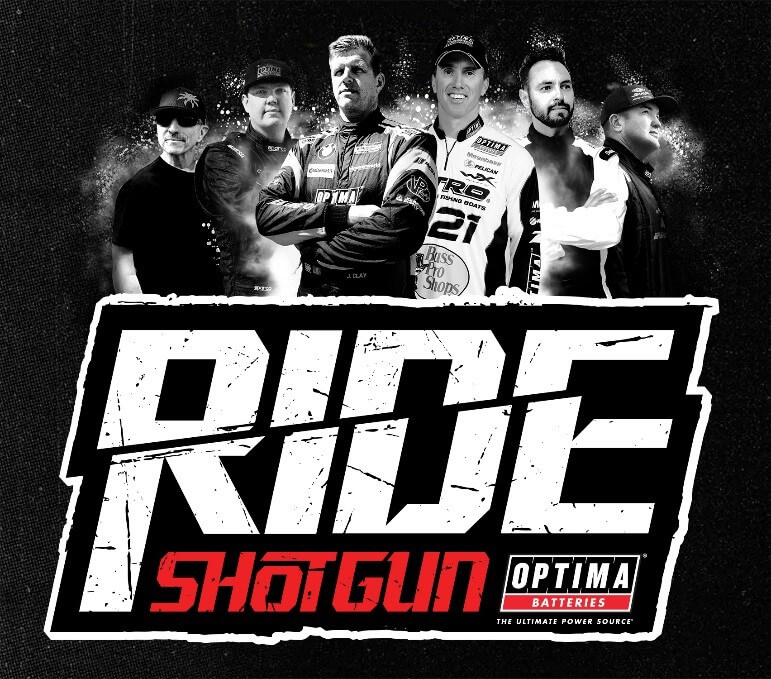 Events
Sponsor

OPTIMA Batteries

Location

Nationwide
Earlier this year OPTIMA, Batteries announced a groundbreaking, inaugural promotion to allow enthusiasts across the country a once-in-a-lifetime chance to "Ride Shotgun" with their heroes. Winners would be offered a thrilling adventure with one of seven OPTIMA PowerPro Ambassadors. Each participant had to create a video explaining why they deserved to "Ride Shotgun." Of the hundreds of entries, seven lucky winners were chosen, and their names were announced in the OPTIMA Batteries booth at the 2019 SEMA Show on Tuesday, November 5.
Among the winners, Mason Dupuis shared in his entry video that his dream would be to attend the off-road race King of Hammers. He became an off-road racing fan after finding a live feed to the King of Hammers race while overcoming a medical condition two years ago. He is currently attending welding school in hopes of one day building his own Ultra4 racecar. Dupuis will Ride Shotgun alongside Loren Healy in February at King of Hammers in Johnson Valley, California.
Yvonne Juergens, who won the opportunity to Ride Shotgun with Betim Berisha, founder and owner of BBi Autosport, at the Pikes Peak Airstrip in Colorado Springs, filmed her entry video on a tractor swaddling alfalfa traveling 4.2 mph with her two toddlers. Juergens said she could really use a change of pace and entered to fulfill her need for speed. Juergens will ride in the passenger seat of Betim's Porsche GT3 Cup as he races to 180 mph in 13 seconds.
Similarly, Ride Shotgun winner Jake Irvine also filmed his video while driving. He won the opportunity to ride with James Clay in his BMW Bergsteiger E36 at the 24-Hour Race in Nürburgring. The long-time auto enthusiast said he was so excited about the opportunity that he already prepared his passport.
The full list of Ride Shotgun winners:
Jon Phillips of Danielsville, Georgia (Fishing with Edwin Evers)
Yvonne Juergens of Moses Lake, Washington (Pikes Peak ride with Betim Berisha)
Skip Reagan of McKinney, Texas(Drag Race with Mike Weiss)
Tom Lauterjung of Mission Viejo, California (Rubicon Trail Ride with Larry McRae)
Mason Dupuis of Montgomery, Texas (King of Hammers with Loren Healy)
Jake Irvine of Dallas, Georgia (Nürburgring Race with James Clay)
J.D. Pollard of Athens, Ohio. (Glen Helen Raceway Experience with RJ Anderson)
More to come in 2020 as each winner experiences their once-in-a-lifetime opportunity to Ride Shotgun with their OPTIMA PowerPro Ambassador.