OPTIMA Batteries Pro Edwin Evers Takes Second Place at WABTA Rock Lake Event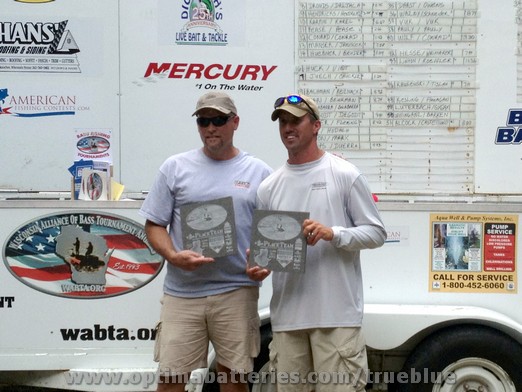 Marine
Sponsor

Location
When Edwin Evers saw the 2012 Bassmaster Elite Series would take him to Wisconsin for the first time, he jumped at the chance to support his nearby sponsor OPTIMA Batteries as well as local grassroots tournament fishing. On Saturday, June 16th, Evers teamed up with Keith Vogel to finish second out of 52 teams in the Wisconsin Alliance of Bass Tournament Anglers event on Rock Lake in Lake Mills, Wisconsin.
"It was quite the experience fishing in a club team tournament again," said Evers. "The club put on a great event, and I couldn't have had a better partner in Keith. Neither of us had ever been on the lake, so we just decided to go out and have a fun day of fishing. It was a great way to kick off my time here in Wisconsin."
Evers and Vogel were brought into the event by OPTIMA Batteries and its Milwaukee-based parent company as a way to celebrate the arrival of Elite Series bass fishing events to Wisconsin and thank the membership of WABTA for their role in helping to pass the 2011 law that allows culling in bass tournaments.
A relatively tough bite left the more than one hundred participants impressed with Evers' fish catching ability on an unfamiliar body of water. "The members of WABTA are some of the best fishermen in Wisconsin, but Edwin showed us all that the guys who have proven themselves at the elite level in our sport are there for a reason – they can flat out catch fish," said WABTA tournament director Kevin Manser. "More importantly, we appreciate OPTIMA's support of our organization and Edwin's time spent with us on Rock Lake. It was a fantastic experience for our members and the greater fishing community in southeastern Wisconsin."
Evers and Vogel decided to donate their winnings to a local charity, supporting a WABTA member's family friend who is suffering with cystic fibrosis, which was greeted by a round of applause from the appreciative crowd at Saturday's weigh-in at Sandy Beach.
Evers is headed to La Crosse, Wisconsin for the Bassmaster Elite Series Mississippi River Rumble June 21-24th, then off to the Green Bay Challenge June 28-July 1st. These are the first Elite Series events to ever be held in the state of Wisconsin. See more stories about Edwin Evers here.